/photo view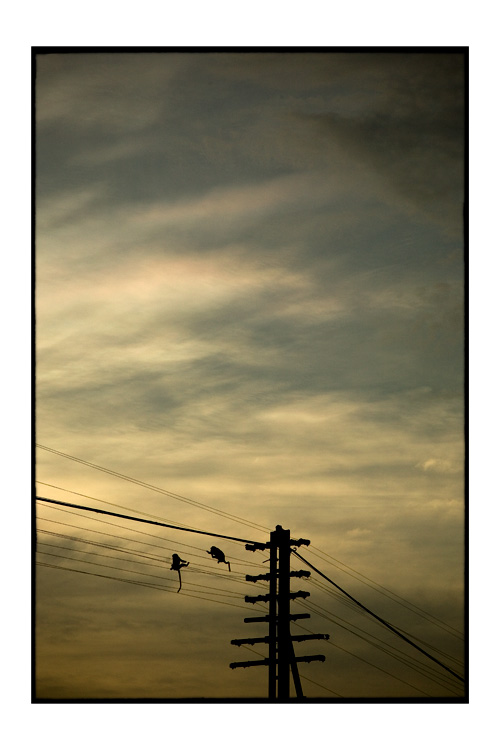 i love you
© Simon Kolton

(15-12-2007)

<

lopburi

<

Thailand

<

Asia

PHOTO DESCRIPTION

Sorry sometime we should preseve the intimacy from our model.


| | |
| --- | --- |
| APN | Canon Canon EOS 5D |
| Registred camera | CANON Canon EOS 5D with CANON EF 24-105mm f/4L IS USM (Reflex camera) |
| Orignal filename | img_6621.jpg |
comments
06/29/2008
What strange birds in those telephone wires! They seem almost like parts of the supports on the pylon. Another nice observation. And the sky is lovely. -h.

02/20/2008
The sky is the limit!.. this photograph is a good example of that phrase... beautiful framing that enhances their presence and their games... Superbe travail mon ami!
Eric
12/18/2007
"Like a monkey on the wire, Like a drunk in a midnight choir, I have tried in my way to be free..." -- monkeys will never be the same to me after these shots. This one is very funny and graphic at the same time... under the lovely thai heaven, all is possible... love is everywhere!
sasa
12/16/2007
Another excellent monkey image, if its not the perfect silhouettes which make this image work its the beautiful colour in the sky. Great work again.

12/16/2007
love how you've been gradually distancing us in the past three shots... a very romantic monkey shot indeed :-)...

12/15/2007
A consistent poetry emanates from this All-Pro series, Mr Fly. It is for sure a combination of lens-sense, timing, composition and superior PS treatment that produces this level of output. Makes one want to go out and shoot more and more... rarely have animals been portrayed with such a range of emotions (and humour). very nice work.