/photo view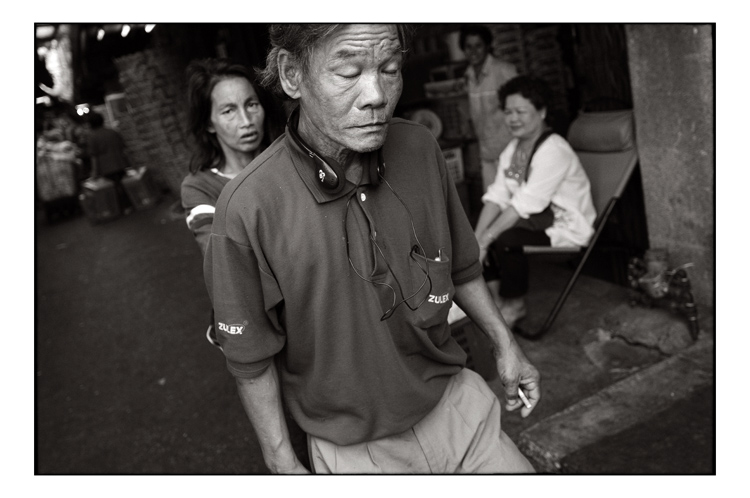 i am not drunk
© Simon Kolton

(31-12-2007)

<

Bangkok

<

Thailand

<

Asia

PHOTO DESCRIPTION

A street scene, this woman pushed her completely drunk husband, so that he returns at home. His wife was really angry after him, but him he was cheerful and sang.

| | |
| --- | --- |
| APN | NIKON CORPORATION NIKON D300 |
| Registred camera | NIKON CORPORATION NIKON D300 with NIKON AF-S 14-24 mm f/2.8G ED (Reflex camera) |
| EXIF information | f:2,8 - 1/320 - 640 ISO (no flash) |
| Orignal filename | img_1093.jpg |
comments
03/28/2009
ce qui me plait est le gros plan sur l'homme tout en lissant visible son environnement, je ne sais si je l'aurais placé au milieu??,
je pars pour un mois en Yakoutie
francine

03/28/2009
Bonjour Simon, belle addition a ton projet penetrant sur Klong Toei ou le "Vieux BKK". Il y a des aspects compositionnels tres interessants ici: la osition centrale du type (mais qui permet de voir tout ce qui se passe par derriere sur la gauche), le tilt qui ferait penser a un "hip shot" bin que je ne pense pas que ce soit le cas ici - c'est pas ton genre et puis tu as bien vise sur la femme derriere. Question pique c'est tres fort - pleine force sur le monsieur, un peu lus douc pour la femme et puis apres, du bokeh... De retour au japon aujourd'hui - j'essaie de rattraper un peu.
03/26/2009
Stunning detail, Simon, on this man's face. Your composition on the fly was terrific; love the half-concealed woman looking straight at you and the oof amused onlookers.

[This lens seems exceptional. I am thinking of getting a zoom in the wide range. How do you like this one?]