/photo view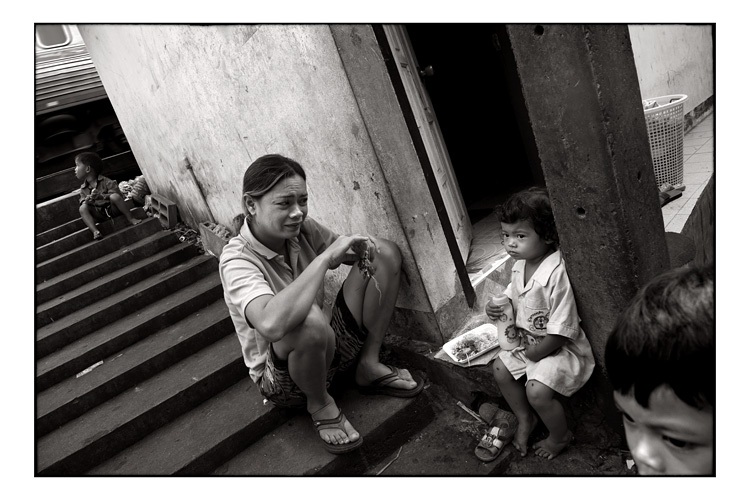 the lunch
© Simon Kolton

(05-02-2008)

<

Bangkok

<

Thailand

<

Asia

PHOTO DESCRIPTION

A simple scene in Klong Toei. a mother giving lunch to her daughter.
near the rail. i loved the gaze from the mom to her kid. something moving.

| | |
| --- | --- |
| APN | Canon Canon EOS 5D |
| Registred camera | CANON Canon EOS 5D with NIKON AF-S 14-24 mm f/2.8G ED (Reflex camera) |
| EXIF information | f:10 - 1/200 - 400 ISO (no flash) |
| Orignal filename | 7395-modifier.jpg |
comments
03/22/2009
Toute une histoire que tu nous racontes, comme tu sais si bien le faire...les pleurs de la maman vont droit au coeur, comment s'en sort-t-elle ? Elle n'a pas beaucoup à donner à sa petite fille. Tous les pixels comptent ici, la progression le long de l'escalier, le gosse en bas à droite, et puis en remontant, le tout petit en haut de l'escalier. Est-ce un train là-haut ? ou une caravane.
Emouvant ? oui, très. Que seront leurs vies ? Superbe composition et b/n, et beaucoup de force, Simon.
03/20/2009
tout en diagonale ici, les regards parlent dans cette photo, j'aime beaucoup le demi visage du premier enfant et au loin le petit en haut des marches! la maman? si triste!

03/19/2009
Une histoire à imaginer avec chaque visage, avec chaque regard. Une très belle compoistion, et un magnifique travail du B&W.

Hasta la vista,

Javier

PS: Tu pourrais aussi "Blurber" ce projet ;-)

03/19/2009
I agree with Francis. A mysterious image, with a fascinating play of glances. The mother seems to be suffering as only a mother can, as children surround her, distracted by the world. Really an excellent photo, Simon. Best, -h.

03/19/2009
There is a lot more to this shot than the thumbnail would indicate - it's like a puzzke really, suspended between two "corner" kids, the fantastic face in the lower right and the other boy higher up the starir in the upper right. Well seen yet again.
-F-