/photo view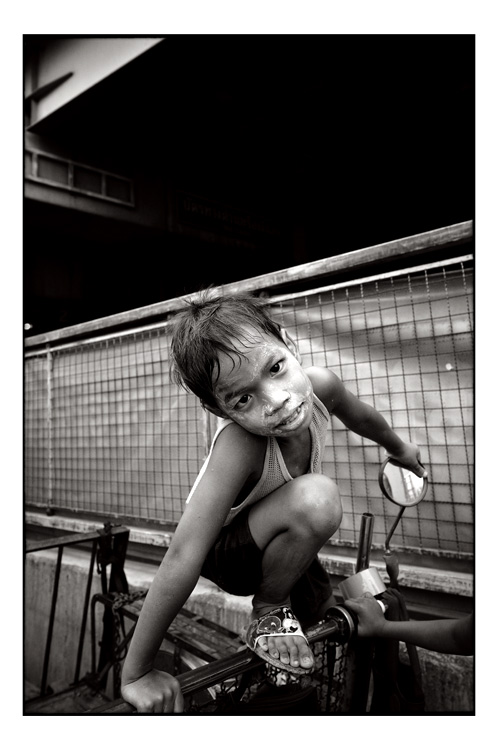 the model
© Simon Kolton

(25-12-2007)

<

Bangkok

<

Thailand

<

Asia

PHOTO DESCRIPTION

A little boy i met in Klong Toei, he enjoyed to be my model, and was a nice one.

| | |
| --- | --- |
| APN | NIKON CORPORATION NIKON D300 |
| Registred camera | NIKON CORPORATION NIKON D300 with NIKON AF-S 14-24 mm f/2.8G ED (Reflex camera) |
| EXIF information | f:4,5 - 1/80 - 400 ISO (no flash) |
| Orignal filename | img_0418.jpg |
comments
03/22/2009
Bonsoir Simon, c'est donc bien du talc ici, d'après ce que je viens de lire. Comme Francine, je le trouve si jeune et avec une expression de douceur et aussi de tristesse sur son visage penché sur le côté. L'environnement direct donne une impression de cage. Charmant détail de ses sandales travaillées et les orteils qui en sortent. Quelques petites zones surexposées non ?. Mais le tout est étonnant, j'aime l'espace qui monte graphiquement vers le haut. Et malgré une certaine étrangeté je suis très attirée par cette scène. Un très bon portrait qui sort des terrains battus.
03/22/2009
magnifique ce portrait, le tanaka tradittionnel sur son visage,ce qui me frappe c'est la douceur triste sur son visage!! si jeune... je crois que j'aurais aimé voir toute sa main, mais cela reste secondaire tant l'expression est si bien capturée, par contre j'aime beaucoup l'autre bras à droite;
francine

03/17/2009
Ce fut sympathique de sa part de poser pour toi Simon! --SW
03/15/2009
Well, I can't forget the controversy of past weeks about such a photo as this, but I'll chime in on this one. It has a carnavalesque feel, due to the odd environment and whatever is on his face? Is it powder? Burns? Those white areas are definitely burned out, but they are small, so it seems okay, and the rest of the exposure is good. Maybe the cut off hand at the bottom is an error you could have avoided. I like all the negative space along the top, but I'm not sure if he is positioned well within the overall frame. As always, your black/white conversion is really nice. I'm of a mixed opinion on this one. But I'm biased, too after the big child portrait debate earlier this year. Best, -h.

03/15/2009
Another good shot here Simon. I love the kids' posture and expression. Nice and sharp as well (I guess thats the advantage of spending so much money on a lens!).
03/15/2009
Another fine image for the series Simon. The Nikon 14-24 AF-S f2.8 hmmmm drool :)
03/15/2009
Des traces de Tanaka sur son visage, comme en Birmanie... Grande technique ici pour dynamiser ce cliche, ou tout semble foncer at toute vitesse. Bien joue, Simon, tres fort ce portrait, -F-