/photo view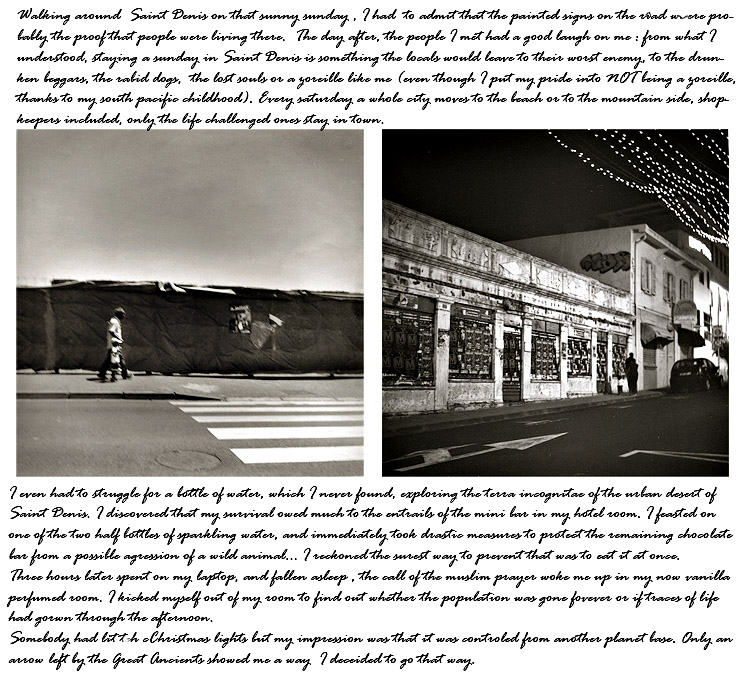 The only living guy in Saint Denis
© Luko G-R

(02-12-2007)

<

Saint-Denis

<

Reunion

<

Africa

PHOTO DESCRIPTION

Walking around Saint Denis on that sunny Sunday, I had to admit that the painted signs on th road were probably the proof that people were living there. The day after, the local people I met for work had a good laugh on me: from what I understood, staying in Sunday in saint Denis is something the locals would priorily leave to their worst enemy, to the lepperd drunken beggars, to the rabid dogs, occasionally to the zoreille like me (even though I put some pride into NOT being a zoreille thanks to my childhood spent in the South Pacific, FYI the zoreille is the French islands gringo, don't you zoreille me!).

Every Saturday a whole city massively moves to the beach or the mountain side, shop keepers included, creating a traffic jam that would scare a Bangkok tuktuk driver. Only the life challenged ones stay in town… and me.

I even had to struggle for a bottle of water, which I never found exploring the Terra Incognitae of the urban desert of Saint-Denis. I discovered that my survival owed much to the entrails of the minibar in my hotel room. I feasted on one of the two half bottles of sparkling water and decided to immediately take drastic measures in order to protect the remaining chocolate bar from a possible aggression of wild animals.. I reckoned the surest way to prevent the ill fate was to eat it at once.

Three hours later spent on my laptop and fallen asleep, the call of the muslim prayer woke me up in my now vanilla a perfumed room. I kicked myself out of the room to find out whether the population was gone forever or if traces of life had grown through the afternoon.

Somebody had lit the Christmas life, but my impression was still that it was remotely controlled from another planet base. Only an arrow left on the road by the Great Ancients showed me a way. I decided to go that way.
| | |
| --- | --- |
| APN | LOMO - Lubitel 166 |
| Registred camera | LOMO Lubitel 166 (Reflex camera) |
| Orignal filename | walk.jpg |
comments
12/16/2007
once again great atmosphere, i like how 'unconventionally' the nighttime shot is sharper than the day one... would be even stonger (and match the title better) if the little boy weren't there..

12/15/2007
Hello Luko
c'est agréable de suivre ce project, j'aime bcp la photo de gauche, bon je ne sais pas si tu vends au détail ?
mon impression sur celle ci, j'aime bcp ce travail et ce rendu, mais je trouve celle ci un peu
chargée.

••fly••

12/14/2007
Il y a ici un parfum de Max Pam dans cette narration tant au niveau picturalle que textuelle.
C'est un sacré "levée de rideau" en guise d'ouverture d'un livre photo. J'attends avec impatience de lire et d'écouter le reste de ce livre. A bientôt.

12/14/2007
this dyptich is very appealling to me! The sense of loneliness you are mentionning in very much into your photos as well! Only one shot might not have been as impactful as this dual vision of sunday loneliness in the city... I really like the inclusion of the text all around it. it has the taste of a polaroid story you are telling us right onto the prints, like you are telling us the story of a murder or something...very inticing!
Eric
12/14/2007
Excuse my late arrival on the second installment of tis engrossing series, my friend (I had a bit of a problem with disappearing Yakuza portraits which is still not 100% solved... no vanilla here, man...)

The double exposure has now turned into a diptych which is absolutely fine with me, as if your eyes were finally able to FOCUS properly past the first "etourdissement" of arrival. I like sometning very special here, Luko which is this parallel thing going on between a "fictional tone" and "reality". everything you say strikes me as very reall and yet there is a literary, hallucinatory aspect to it, you know... Burroughs goes to the reunion ;o) It is all very cleverly rendered.

I also appreciate hugely the desire (fair enough) not to be a "Zoreille", it is a sort of return for you, I sense this, even you are no longer the boy who left the islands, other islands but...you know. I wont bring up Duane Michaels again but... I do think of him a bit.

FInally of great interest to me because some say I can string together the odd phrase too...is this elevation of the NOTE to the status of an image - I mean they co-exist in your trope, your design, and therefore are perhaps of equal value, no? This is very new for us "put up a picture, then a note" types. A new world beckons... The image on the left and to some extent the one on the right have that "respect for proportions and space", that alienated "loneliness" of so much of Depardon's recent output.
12/14/2007
This one takes on quite a different charm. Unlike the last one's double exposed dream sequence, groggy with last night's liquor, this one is sharp, but lonely, as lonely as mid day shadows can be, and they don't get any more closer as they cast longer reaches under tinsel lights against shuttered shops and desert streets. Bravo!