/photo view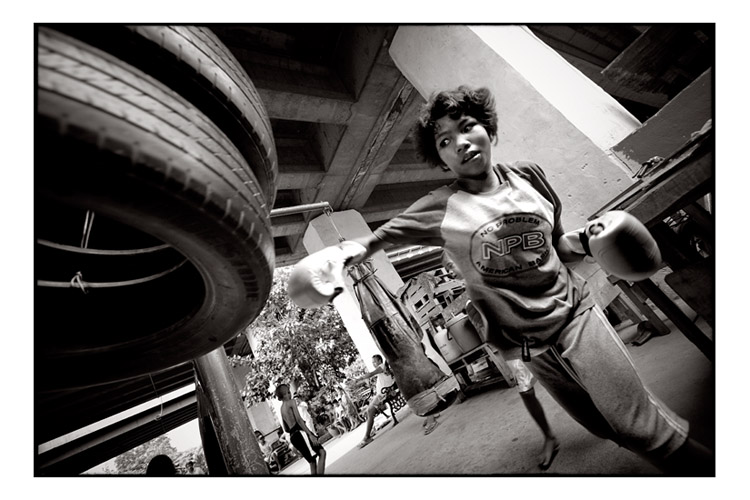 Muay Thai
© Simon Kolton

(07-09-2008)

<

Changwat Mae Hong Son

<

Thailand

<

Asia

PHOTO DESCRIPTION

Thai boxing is a sport mattering in Thailand, maybe important as the football in Europe. Here in the district of Khlong Toei a small training center for children from the district. The training camp is installed under freeways, and the budget does not allow an ideal equipment.

| | |
| --- | --- |
| APN | CANON - Canon EOS 5D |
| Registred camera | CANON Canon EOS 5D with CANON EF 16-35mm f/2.8L II USM (Reflex camera) |
| EXIF information | f:5 - 1/100 - 800 ISO (no flash) |
| Orignal filename | reupload_img_1690b.jpg |
comments
02/19/2009
First of all let me say I think this is a successful pic, no doubt it works and works well. It is...on the extreme side no doubt, that is to say both in terms of extreme wode angle (I would guess at the 16mm edge of your zoom, and extreme in tilt which compounds the overall effect.. I would say this is probably at the limit of what would be comfortable for the eye to watch. DYnamism is there in spades, the feeling of something being cocked, like a gun..........and then RELEASED. Frankly the burned highlights are there but they do not trouble me, it is a function of the light and sometimes, just like flare, it can be an advantage, or at least an acceptable feature of the whole.
Takeaway for all of us: how to work the shot, find the angle, even if it means crouching down near the ground and shooting up. Funnily these little digicams with flippable, rotating LCDs are very handy for this...

02/18/2009
The tilt already creates plenty of dynamism, the punch only enhances this. A new Lumpini star is born:)
Slightly overexposed glove, true. Unfortunate but not a deal breaker for me
02/18/2009
Je trouve que le tilt donne beaucoup de dynamisme ici, je suis ok avec stig, le blanc du gant droit est trop flash? qu'en penses tu? et le pied derrière me dérange un peu.
ce n'est que mon humble avis!
à plus
francine

02/18/2009
You've got some real nice perspective here, Simon. I thought she was throwing the tire. The tilt, her expression and the movewment work to your advantage as well. The only thing that bothers me, though, is the love is a little overexposed. A bit more colour would have been better I think.