/photo view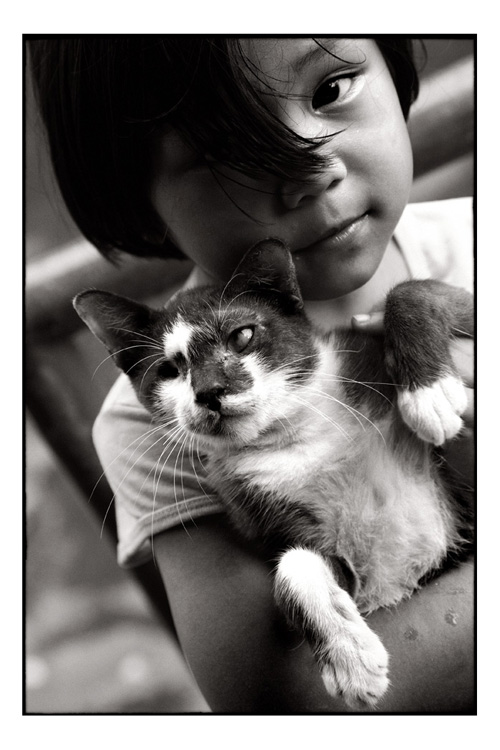 One eye
© Simon Kolton

(26-08-2008)

<

Bangkok

<

Thailand

<

Asia

PHOTO DESCRIPTION

A scene that I found moving. This girl had this cat in her arms, he was one-eyed and blind with the second.

PS a dedicace for the Alimo team, for their sensibility.


| | |
| --- | --- |
| APN | CANON - Canon EOS 5D |
| Registred camera | CANON Canon EOS 5D with CANON EF 24-105mm f/4L IS USM (Reflex camera) |
| EXIF information | f:6,3 - 1/160 - 800 ISO (no flash) |
| Orignal filename | _mg_7480.jpg |
comments
02/18/2009
Yep, grand moment de sensibilité. L'echo des yeux saute aux yeux ;)
Très belle et délicate photo, les émotions sont là. Bravo Simon.
nono

02/17/2009
I don't know how you managed that with the eyes, but it sure is a brilliant shot. Even though it's of a cute little kid. Best, -Hugh

02/16/2009
Je suis touché par la dédicace ,surtout sur une image de cette trempe,
Le noir est blanc est magnifique avec des noirs profonds comme je les aime.
Le peu de contexte est pour moi un plus , si un portrait fonctionne avec peu de contexte c'est qu'il est réussi.
L'image est simple et va droit au cœur .
Trop charmant de voir que les deux amis ont le même œil droit occulté …
Le dernier détail que je trouve très poétique ce sont les goutes sur le bras que l'on pourrait prendre pour des larmes si on voulait avoir de ton cliche une interprétation mélancolique
( mais comme disent les Thai : thinking too much no good !)

Tom


02/16/2009
A very tender and moving portrait Simon. That tilt works very nicely!
Regarding your comment to Gal.....play nice!!! We Nikon users have feelings to :)
02/16/2009
Nice capture, Simon! I like how the cat is missing it's eye, and the girl's hair is hiding her eye. But I love the detail of the cat and the girl's gaze. This is a cracking project by the way and nice to see a portrait popping up!
02/15/2009
Gagné Simon ! Je sors de ma réserve pour saluer ce superbe moment de tendresse
Une bien belle image pleine de délicatesse comme tu sais si bien les capter
Merci pour cette dédicace qui me touche
Vero
02/15/2009
Droit au coeur, Simon. Merci pour ce moment d'une grande sensibilité.
02/15/2009
Ca m'étonnerait que tu aies encastré ton Nikon 12-24 sur le 5D. Quoi qu'il en soit, très belle image qui me renvoie illico à tes moments de grande sensibilité que l'on pourrait même qualifier de grâce. Gal