/photo view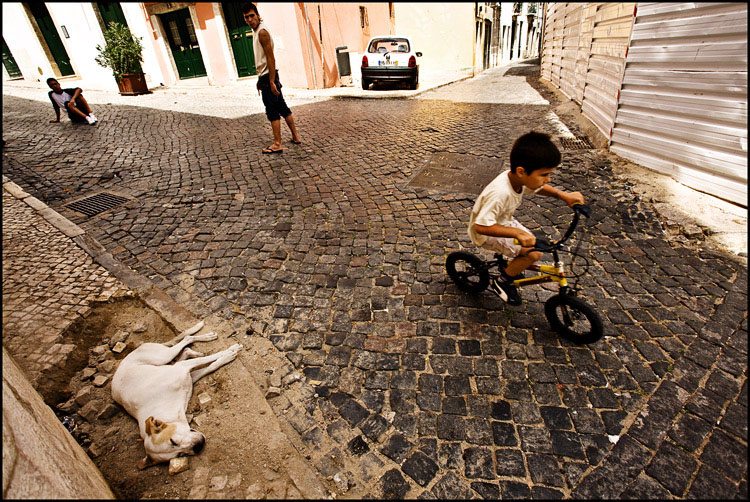 The dog, the bike and the uglies
© Luko G-R

(17-08-2008)

<

Distrito de Lisboa

<

Portugal

<

Europe

PHOTO DESCRIPTION

Ride'em cowboy. Alfama district.
| | |
| --- | --- |
| APN | Canon Canon EOS 5D |
| Registred camera | CANON Canon EOS 5D with CANON EF 17-40mm f/4L USM (Reflex camera) |
| EXIF information | f:8 - 1/400 - 200 ISO (no flash) |
| Orignal filename | lisboa20.jpg |
comments
05/04/2009
Tres jolie, and excuse my lack of accents here. The squashed-looking dog makes the photo a little humorous.
03/03/2009
Looking at these images of your series I am thinking I should graduate to a 'real' wide angle. A stunning composition that can't be done with a real wide.

02/16/2009
Visualy this is crazy good! Your subjects form a cross on a crossroad, just wish the car wasn't there :)
How to use WA lesson2...
02/14/2009
cette image pourrait être la version couleur d'une image prise a BKK
a part le chien ;o) a bkk il ne dorment pas la tête sur un caillou c'est pas confort.
me fait sourire cette image.
••fly••

02/13/2009
Très chouette utilisation du grand angle, on la dirait prise par un petit oiseau qui vole, beaucoup de dynamisme et belle perspective sur les ruelles vides. Le garçon à gauche mais surtout le chien me font sourire de plaisir, c'est si relax...:-). Du b/n :? je ne suis pas sûre, j'aime ces couleurs un brin délavées.
02/13/2009
Nice HCB geometry and "coup d'oeil" all over this one (his Spain period...) I'd love to see the monochrome version...