/photo view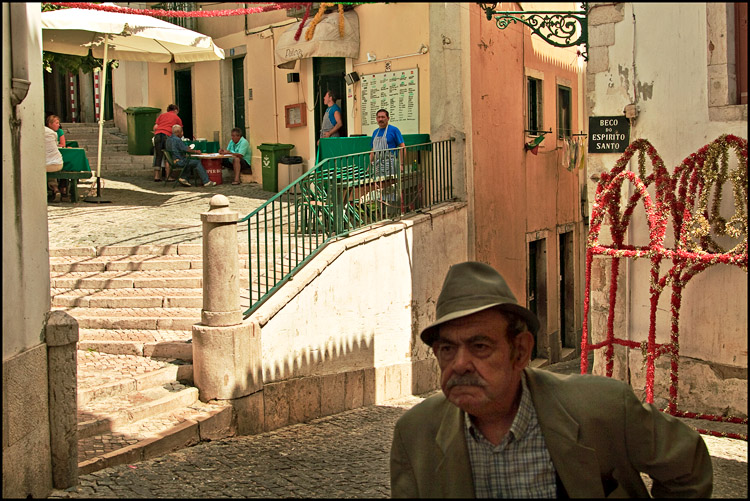 Beco do Espirito Santo
© Luko G-R

(17-08-2008)

<

Distrito de Lisboa

<

Portugal

<

Europe

PHOTO DESCRIPTION

The Alfama district.
There's something asian with the Alfama, a way of displaying everybody's life out in the streets.
| | |
| --- | --- |
| APN | Canon Canon EOS 400D DIGITAL |
| Registred camera | CANON Canon EOS 400D DIGITAL with CANON EF 24-105mm f/4L IS USM (Reflex camera) |
| EXIF information | f:6,3 - 1/250 - 100 ISO (no flash) |
| Orignal filename | lisboa5.jpg |
comments
02/02/2009
pas beaucoup de temps pour commenter, comme Nono la crise oblige.
Mais je voulais saluer au passage cette photo et sa terrible composition.
Oui on est bien à Lisbonne pas de doute. des que possible je commente les autres
j'ai vue d'autres petites perles dans ce projet.
••fly••

02/02/2009
Salut Luko,
Cool de voir de nouvelles Lukozeries ;) Grosse compo et grosse tronche, pas de doute on est bien en 'territoire' Lukozien. Alors tu boudes ton M6 de compet' en ces temps de demie crise. Une photo qui aurait certainement très bien fonctionnée également en n&b. Superbe photo Luko. Gaffe à la chasse au magenta, j'ai compté 123754 individus non désirés rien qu'à l'intérieur de celle-ci ;) Bravo encore.
nono
Je vais revenir pour le restant, tu m'excuses, c'est la crise, faut que je bosse MOI, et pas en mode "à la Réunion".

02/02/2009
[Je le fais en français]. Dès que j'ai ouvert et "lu" cette photo, elle m'a rappelé immédiatement une photo de HCB (encore!), un autre angle de vue certes, mais dans l'esprit il ya cette abrrière, ce grahisme urbain apporté par les différentes directions des ruelles, les ombres, , la profondeur crée par les differnents personnages .. Il aurait fallu que ce moustachu chevauchat un vélo et tu avais tout bon ! Juste une petite critique cependant contrairement à ton habitude, ce moustachu, tu l'aurais intercepté son ombre, sa présence, là il est moite-moite dans l'ombre et dans la lumière, mais je pense que c'est sa bouille et sa moustache qui ont tranché ;o) !

02/02/2009
You know, our New Jersey buddy Brian is very shy and discreet about commenting these days - he will gently drop a FAV and then...on his way. I'm not like that ;o)

This is the pick of a very nice litter, for reasons which are obvious to me, namely this shot could have been taken with a rangefinder, it has that "air", not to mention the multidimensional aspect - two distinct planes here - the sad moustachoed man (so typical of Lisbonnais ;o) and then the whole other group scene up above.

Colors are extraordinarily faithful (something I admire from afar these days since I no longer espouse that in my own rough work ;o) but really, that pink, etc. exactly how I remember them.

What people don't stress enough or are too polite to mention is that Portugal but I think Lisboa in particular is permeated with a certain "sadness", saudade, "cafard" which is not to everyone's taste. Personally I dig it, and I love Lisboa and Fado music, I want to cry for hours (okay, slight exaggeration here...)

One suggestion:
I think not only this picture but the entire set could look equally good if not better in a tasty monochrome, do you see what I mean. In this particular case the spatial relationships would be even more evident. SOmething to think about...

fav

ps. If I'd taken this shot, I'd be jumping up and down!