/photo view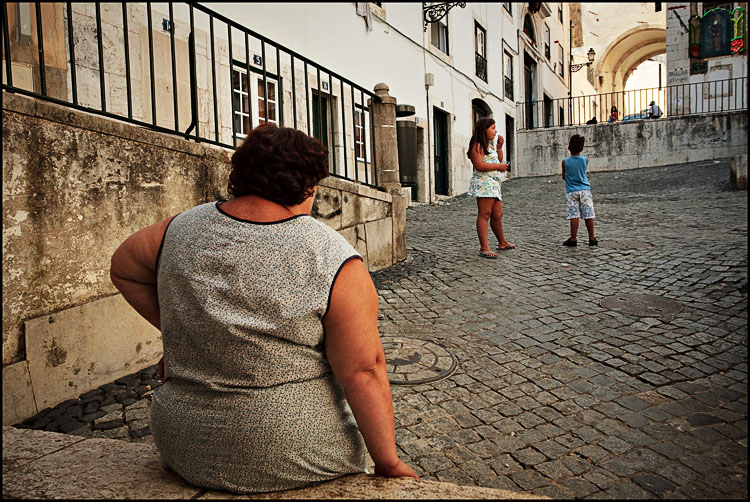 Botero in Alfama
© Luko G-R

(17-08-2008)

<

Distrito de Lisboa

<

Portugal

<

Europe

PHOTO DESCRIPTION

Typical Alfama situation.
They were waiting there apparently for nothing, probably for the day to end.

The sitting woman was chubby and massive like a Botero statue, she simply didn't move, her daughter was chubby too, she didn't move either, staring at the surroundings.

I wonder whether they're still waiting for that thing to come.
| | |
| --- | --- |
| APN | Canon Canon EOS 5D |
| Registred camera | CANON Canon EOS 5D with CANON EF 24-105mm f/4L IS USM (Reflex camera) |
| EXIF information | f:8 - 1/400 - 200 ISO (no flash) |
| Orignal filename | lisboa3.jpg |
comments
05/04/2009
Funny how for me this is a stand-out shot, when it is not of anything outwardly extraordinary. But the textures and patterns make it so beautiful, and of course the dimensions of the seated woman. Beautiful lens, I think it must be a Leica?
02/02/2009
A lesson on how to shoot someones back! A massive block taking up nearly all the image. Yet it's a delicate work with small details; her 2 children in the distance, the cobblestone street leading upwards and it's perhaps strange but I love the small motifes on her dress
02/02/2009
Don't know why, I find this photo unbalanced, or not enough balanced ;o) and the bottom-up POV almost confirmed this feeling ... It reminds one of my shot with this massive back that can only empower other perspectives ...

02/02/2009
Not the most sophisticated or complex shot in the world but I like it. Shots of people's backs are so often inexpressive but here we have a MASSIVE, very expressive back reminiscent of, yes once again, HCB's picnique au bord de la Marne ;o)

What I wrote earlier stands as far as BW - I can see a great contrasty BW execution here.