/photo view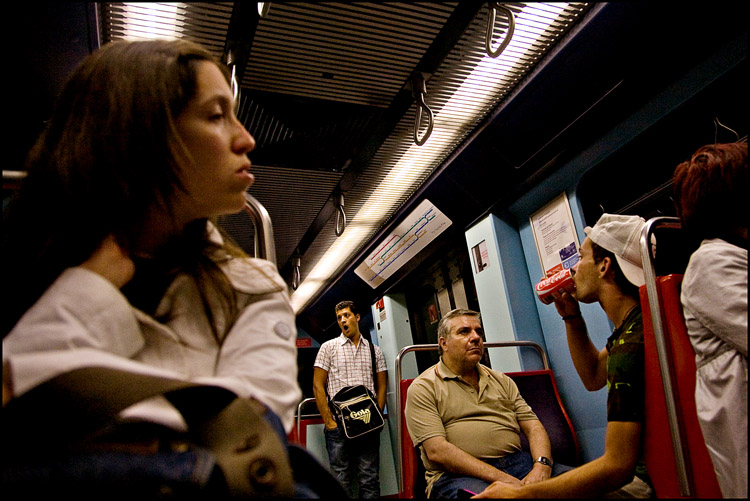 Subterranean blues
© Luko G-R

(17-08-2008)

<

Distrito de Lisboa

<

Portugal

<

Europe

PHOTO DESCRIPTION

I guess the subway is everywhere the same. Even in Lisboa.
Youngsters will be youngsters.
Girls will be girls.
Coke is coke.
| | |
| --- | --- |
| APN | Canon Canon EOS 5D |
| Registred camera | CANON Canon EOS 5D (Reflex camera) |
| EXIF information | f:4 - 1/200 - 800 ISO (no flash) |
| Orignal filename | lisboa2.jpg |
comments
03/03/2009
And only one middle aged man with his mouth closed! Lovely moment.

02/13/2009
Yeah COKE IS IT! Seriously a "Threading the needle" in the subway shot with real class. I love how the eye rests on the yawing "singer" at the very end, or town crier...? I am definitely beginning to see this entire series in BW, Luko, I'm not trying to be difficult but the structures are there for a striking parallel project in contrasty black & white, in my humble view, in that I'm not absolutely convinced of the primacy of color in this case.
02/02/2009
Great depth to this shot, you force the eyes to dart from left to right and then into the back of the shot as they follow the pattern of people youve created. Such a split second thing, but the yawn and the person drinking at the same time is pretty important here, otherwise it would be 4 people just staring straight ahead.
02/02/2009
Wow. Fantastic. You couldn't have posed them better.

Best, -h.