/photo view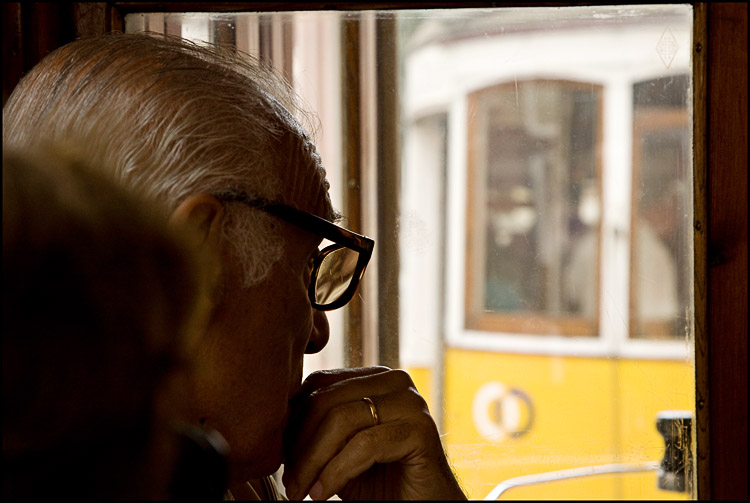 What do you think, senhor Pessoa?
© Luko G-R

(16-08-2008)

<

Distrito de Lisboa

<

Portugal

<

Europe

PHOTO DESCRIPTION

I know, it's an easy one.. nothing new. But I guess it always begin like this in Lisboa, you should take the time to think about the city and to do it the right way, what is it made of, where should you best find its soul.
Not for nothing that Fernando made a guide on his own city, right?
| | |
| --- | --- |
| APN | Canon Canon EOS 5D |
| Registred camera | CANON Canon EOS 5D with CANON EF 17-40mm f/4L USM (Reflex camera) |
| EXIF information | f:8 - 1/125 - 400 ISO (no flash) |
| Orignal filename | lisboa6.jpg |
comments
05/04/2009
I really like this shot.
02/04/2009
Maybe it's not original in its concept but it's another image that deserves more credit than it's received. Beautiful, pensive portrait. And although I thought he suffered a little too much at first from Francis's Mr Yellow, it now seems a reflection of the colour of the tram. Perhaps I would have held the exposure of the tram back a little but. . . that's me. Best wishes Stephen
02/02/2009
This simple, unpretentious shot is sooo true to Lisboa and even more to the well dressed gentlemen of that town, these dignified and slightly dandy-ish older citizens who could be writers or Fado lyricists or some kind of artist. You see them all over the center of town, in the cafes and the old fashioned barbershops.

BTW, what happened to the WHITE border we all affected so much? Maybe you've come to the same conclusion as me that the WHITE doesn't stand out very well against the faux-Magnum grey here and also 750 pixels is well, less than 800, eh?