/photo view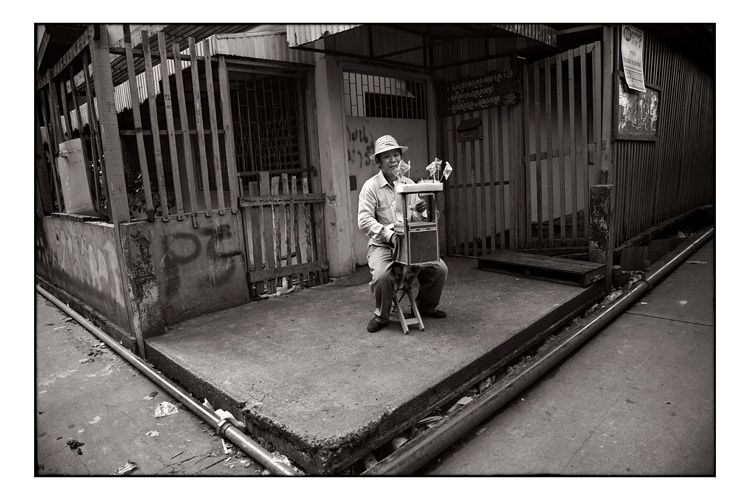 candy man
© Simon Kolton

(18-09-2008)

<

Bangkok

<

Thailand

<

Asia

PHOTO DESCRIPTION

Always in the alleys of the district of Khlong toei.
I found this scene moving, this only man waiting for child's passage. He makes lollipop, which he models in the form of animals.

Sorry for the lack of presence, too much work and not enough time.



| | |
| --- | --- |
| APN | Canon Canon EOS 5D |
| Registred camera | CANON Canon EOS 5D with CANON EF 24-105mm f/4L IS USM (Reflex camera) |
| EXIF information | f:9 - 1/160 - 800 ISO (no flash) |
| Orignal filename | img_3970.jpg |
comments
01/27/2009
Ciao Simon...

yesterday I was looking at some shot from Emmanuel (smague.fr) and I was very excited to see some good old Leica work again. You must remember how that felt huh... and now after seeing this shot I am just wondering how it would have looked if you had taken this shot 5 years back ;o) Are you ever nostalgic to that old m6 or R8 of yours?
I do like the quality of Canon, and if anyone comes close to the quality and feel of Leica and summicron I would point to you, but still hehehe

nice shot, great triangular compo...

Saluti
Jorrit
01/27/2009
This one is just "okay"for me I'm afraid; although geometrically supported by that triangle of lines it does not move me anywhere bear as much as Sid out there in Bangalore (hello, Sid!). It is a competent shot, of course, but it doesn't excite me as much as many others i this series, including the one that sadly "disappeared" yesterday (see my "ps" note)

ps. (These remarks are completely reworded after a heated objection from SImon):
What happened to that excellent portrait you uploaded a couple of days back? I was just about to comment when it disappeared... On the positive side, I'm glad to see I'm not the only one doing this kind of thing ;o) It was getting lonely down here...
Looking forward to commenting on that picture when you decide to re-load it.

01/26/2009
Salut Simon,
J'aime beaucoup cette photo pour l'environnement / l'isolement. Une compo qui nous rappelera sans mal la
photo précédente
;). Celle-ci aurait à mon sens un peu plus de contraste ... m'enfin ...
nono
01/26/2009
I had put that wonderful shot of the old man and the two cats in my favorites....hope you will repost it Simon ! It is splendid, very moving...
I like this one and I do find the man looks kind of so tiny and neat in this very grim environment. I would not see that he is selling lollipops without your note, I think the strength is in the compo, the triangle, lines and light tilt. Nice tonality too.
01/26/2009
As much as I have grown to less appreciate the cliched orgasmic repsonses to photographs and visuals....I did go wow wow about this one( i guess its bio-sociological in a way - nature/nurture..)....I am viewing it on a tft screen here in some strange part of bangalore in an internet cafe and i do like how it has been rendered on this screen..... have to say this one just adds finely into the series you are building up....i am quite fond of this series of yours Simon...you are doing good..