/photo view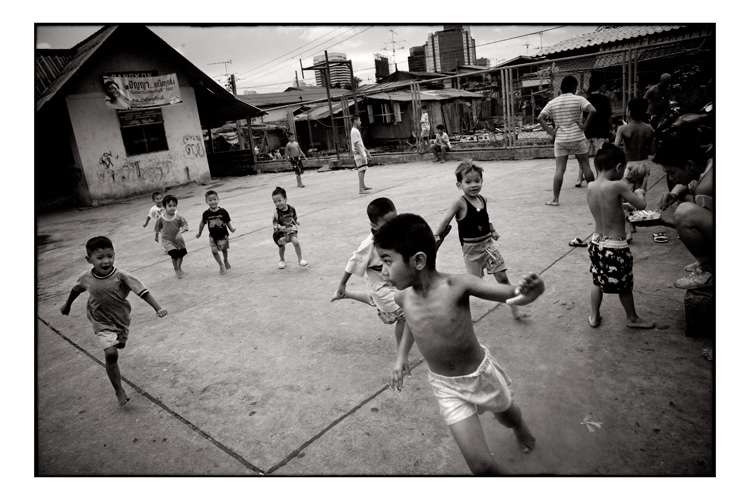 catcht me
© Simon Kolton

(28-08-2008)

<

Bangkok

<

Thailand

<

Asia

PHOTO DESCRIPTION

Children play in one of the shantytown of Khlong Toei.
i Wished this picture coud in the gallery near the one of Emmanuel
would be nice with the opposite movement of those kids.

PS: sorry gor being not much active, to much work, hope to be more free soon.
| | |
| --- | --- |
| APN | Canon Canon EOS 5D |
| Registred camera | CANON Canon EOS 5D with CANON EF 24-105mm f/4L IS USM (Reflex camera) |
| EXIF information | f:11 - 1/320 - 800 ISO (no flash) |
| Orignal filename | img_8336.jpg |
comments
01/25/2009
Salut Simon
Encore une grande image. La compo est magnifique. Bravo, l'ensemble du projet est saisissant. Rien à voir mais tu connais Birdy Nam Nam ? j'ai le dernier, çà déchire :) ... gros son de ouf :)
nono

01/20/2009
Salut Simon. J'aime beaucoup cette image, la spontanéité des enfants, le désordre qui résulte de leur mouvement sans coordination, l'énergie perceptible dans leurs visages et leurs corps. Je ne suis nullement dérangé par la superposition des têtes, et je pense personnellement que c'est à la hauteur de tes images de grande qualité. J'apprécie de surcroît la diversité qu'elle apporte dans le projet, étant donné que l'attention n'est pas ici focalisée sur un personnage ou un détail, mais bien sur une dynamique d'ensemble. Gal

01/20/2009
Il est dur Alex, 1 visage cache pour 14 gosses, je trouve que c'est déjà un exploit ! On peut deviné le visage caché à travers les autres expressions ;o) !

Moi ce qui me gêne, c'est ce vignettage un peu trop appuyé sur le coin droit, je pense que tu as voulu concentré la lecture sur la scène principale, au contraire je suis allé cherhcé les détails dans ce coin ;o) avec difficulté !

Note: tu as eu mon mail via PH ?
Alain -

01/20/2009
Hi Fly, good to see a new one! This is good, but I don't think it's up to your high standards. It's a small thing but it bugs me that the head of the main subject (boy in the foreground) covers the face of another boy. The vignette on the right also seems uneven compared to the left. So it's good, and from many others this would get a better 'rating' but considering the rest of the images in this set it doesn't work for me.

af

---

additional note:

hahahaha! looks like I'm in the minority. meh. that's ok. :-)

01/19/2009
Great childhood triumphing over poverty shot - pure dynamism, lovely filling of the frame with plenty of situational hints in the background. Really top work, Fly!
01/19/2009
Oh Alex is though today :)
I for one love the image. You've handled the wide angle perfect here, depth and dynamism used to its fullest. Those line from what's likely a takraw field create a very effective division of the frame and the stopped motion is excellent...it's a fav for me as well
01/19/2009
Hola!
What a great picture! Full of live, full of dynamisme and with a perfect information about the place. The slight tilt works great here...and about the B&W...what to say...? Perfect as usual.
Concerning to the interesting comment of Alex, I don't think that the head of the main boy heading the other one bother me too much. I think that it will not be a picture of James Nachtwey...but any way...One of my favs!

Hasta la vista,

Javier