/photo view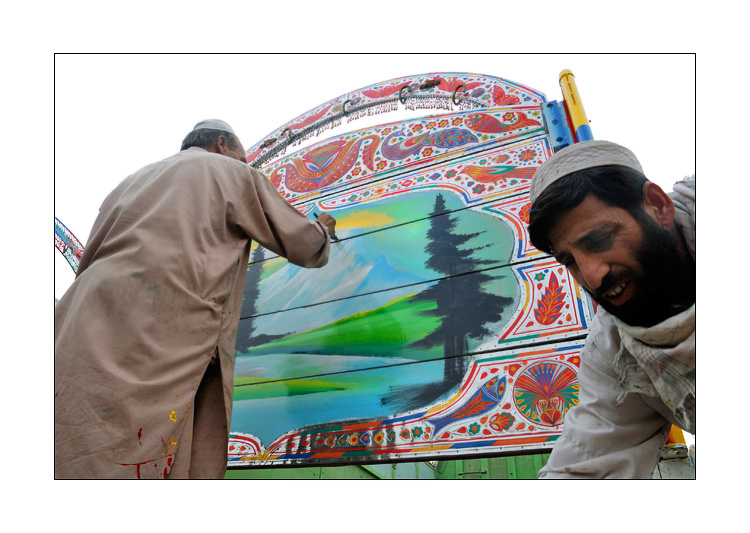 Truck painters
© Steve Viscot

(15-01-2009)

<

Peshawar

<

Pakistan

<

Asia

PHOTO DESCRIPTION

With its all colorful floral patterns, depiction of human heroes with creative aspect ratios, calligraphy of poetic verses and driver's words of wisdom, this form of art is truly a part of Pakistani transport tradition.
| | |
| --- | --- |
| APN | NIKON CORPORATION NIKON D70 |
| Registred camera | NIKON CORPORATION NIKON D70 with NIKON AF 18-35mm f3.5-5.6 (Reflex camera) |
| EXIF information | f:10 - 1/125 - 0 ISO (no flash) |
| Orignal filename | _dsc7535.jpg |
comments
01/16/2009
Someone will say the same about my latest post, but I feel as though the man's eyes are closed. Probably just the shadow. That's the only that kind of nags me. Cool point of view, Steve. This is an excellent series. Maybe this one isn't as great as some of the others, but still a good documentary shot. Best, -h.

01/15/2009
A super compo, Steve, no question there. You were dealing with some tough light here, though, which you did your best to manipulate in RAW - you've got washed out skies there and some effect on color depth too. But having said that this is a striking photo, interesting too...
01/15/2009
We do the same in the Philippines--but with Christian and Western symbolism (picture American flags and jesus--it's madness I know). I wish the sky weren't overcast here Steve, but that's hardly your fault. I also think it would have been better to have a bit more of the man on the left's profile (instead of getting the shoulder), but it's still a nice image overall. I look forward to this series!

When were you in Pakistan? I think it would be a really interesting place to visit--especially these days...