/photo view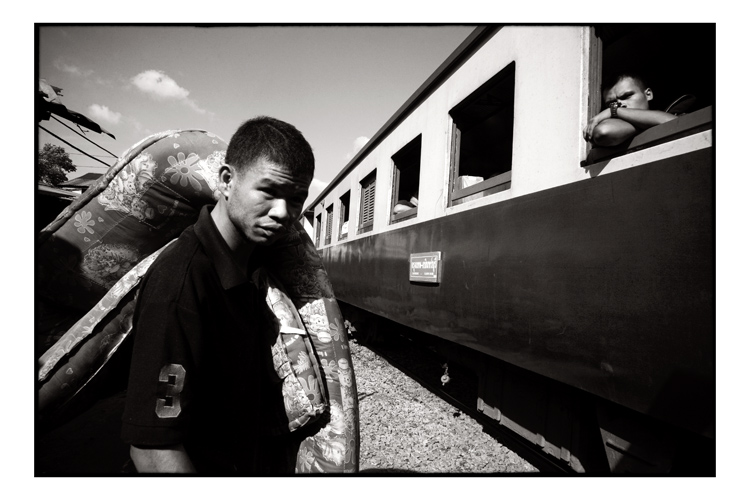 a man and his mattress
© Simon Kolton

(01-02-2008)

<

Bangkok

<

Thailand

<

Asia

PHOTO DESCRIPTION

Under the glance of a traveler, a man and his mattress tries to cross the rail
ADD : No more flag on this version

| | |
| --- | --- |
| APN | CANON - Canon EOS 5D |
| Registred camera | CANON Canon EOS 5D with CANON EF 24-105mm f/4L IS USM (Reflex camera) |
| EXIF information | f:16 - 1/500 - 800 ISO (no flash) |
| Orignal filename | reupload_bimg_6173.jpg |
comments
01/15/2009
Hi Simon i really like this image, and the position of the people in the composition
Better the final version without the small flags behind the head of the man..


01/14/2009
I really like the way you have presented your work in this series Simon. Some strong impacting images and also like the deceptive loose shooting style .But somewhere in all this looseness I think there is a beautiful sense of composing the fleeting very convincingly.

01/14/2009
Have mattress, will travel. Powerful, slightly surreal scene, Simon. I am the last person to comment on B&W conversion as I am less qualified than a third-grader in doing it, but this one feels kind of cold, to the blue side of the spectrum. Still, an arresting moment. Best, -h.

****
Not sure what you did, exactly, in the reloaded version, but I like it. (Seems like you brought the overall gamma down.) Anyway, feels even better now.

01/14/2009
Trains... People... I can I escape from the love of them... I love your b&w work here but wouldn't mind seeing it in color too. You are always so good in color...
The scene itself is amazing. Both eyes of both subjects are in the shadow and that is very good here. The left guy is surely looking at you but the guy in the train can be either looking at you and the main subject. That's great. Very good photo indeed.

01/14/2009
C'est le Charles Bronson du bled local, et son visage nous dit bien que le train ne sifflera pas trois fois avant qu'il fasse comprendre à celui d'en face qui porte le matelas. J'aime beaucoup le jeu de lignes, ces sortes de triangles convergeant vers l'arrière du cadre. Comme l'ami Jorrit, je ne peux m'empêcher d'accrocher le regard sur les banderoles qui lui sortent du crâne. Gal
01/13/2009
Ciao Simon,
A man and his mattress on his way to his mistress? nice scene, my only nittpick would be that it look like he has an antenne growing out of his head. ,o) for the rest i quiet like this photo
saluti...
01/13/2009
This is a sh@t hot picture, Simon, one of your best, where you really show what a skilled lensman can do with a wide. Tremendous dynamism in the lines, coupled with the eternal romance of train and those TOUGH, boxers' faces both inside the train and your main man there, a;; add up to a compelling shot. I'm not trying to be facetious but focus doesn't seem 100% on the guy's face (perhaps he was moving - no big deal, but the "3" on his shirt s sharper than the face to my eyes. Makes zero difference to what s a great picture!
01/13/2009
hum, voilà qui me plaît bien, sympa l'expression des 2 gars qui semblent totalement t'ignorer... Une belle profondeur et des détails sympas...

Par contre le truc genre flèche d'indien en dessus de la tête du premier mériterait bien un petit coup de clonage non ?

PS: j'ai retrouvé mon mot de passe :)