/photo view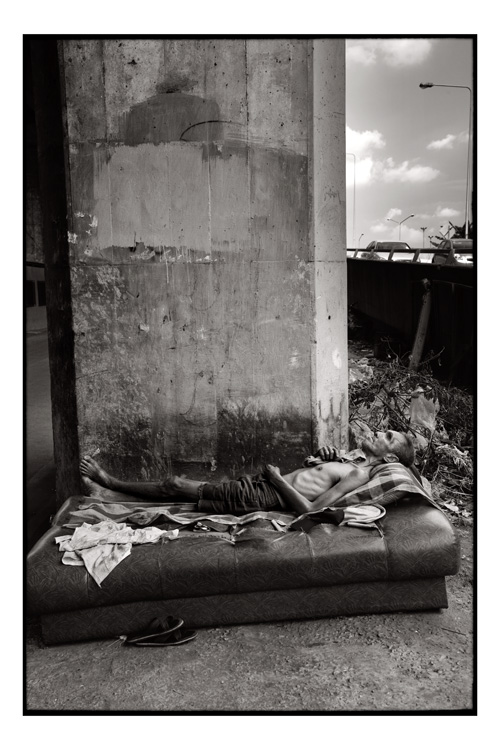 a little part of blue sky
© Simon Kolton

(28-08-2008)

<

Bangkok

<

Thailand

<

Asia

PHOTO DESCRIPTION

The freeway above, a way of exit to the right, a road and the passage of trains of the goods to the left. I remember having been really upset when I set this photo, this man seemed to sleep of a sleep so peaceful, he makes for me thought of Jesus on his cross.
| | |
| --- | --- |
| APN | Canon Canon EOS 5D |
| Registred camera | CANON Canon EOS 5D with CANON EF 24-105mm f/4L IS USM (Reflex camera) |
| EXIF information | f:10 - 1/200 - 400 ISO (no flash) |
| Orignal filename | img_8135.jpg |
comments
01/11/2009
You know, I find it shocking that I don't find this image shocking.....that's not good you know. I've also seen these kind of scenes far too many times in real life. It's shocking that I love your b&w treatment, inclusion of that highway and that oh so powerful little detail of the guy's slippers by his bed. Perhaps if you were a bit farther away and composed horizontaly it would have been even better... we could perhaps have seen what's on the left side (under that bridge). How did you get to this spot Simon....it seems to be rather inaccesable?
01/11/2009
As has been said, this is one of those images that I find very difficult to take.

This speaks loudly Fly, about a different Thailand, a different Bangkok than most tourists see. This is powerful stuff.

01/11/2009
He seems to be on his death bed, he even looks kind of dead. Yes these images are upsetting to take and to look at, but you can't take your eyes off of them.
Powerful picture.

01/10/2009
hello Simon,
A very touching photo, i can imagine that you were really upset . I would feel the same, it would follow me the whole trip ! Sometimes when one catches an image like this, it can make you feel bad because you make a picture of that misery and on the other hand you're happy because it's an unique shot .... it's so ambigue !
inn :)
01/10/2009
Une image poignante Simon. Dur, dur ...
Comme le dit Gal, un projet fort ...
nono

01/10/2009
Il y a peu de temps en arrière tu me disais que Dieu n'existait pas, et voici que tu me sers Jésus crucifié, juste en-dessous du périphérique local (remarque pas forcément plus de trafic que dans le Golgotha d'aujourd'hui au vu des engins guerriers qui se baladent dans la région). C'est forcément une image poignante. Je trouve sidérant le soin qu'il a mis à ranger ses basanes, dans ce dénuement, ce qui est en soi une référence très asiatique, pour généraliser. Gal