/photo view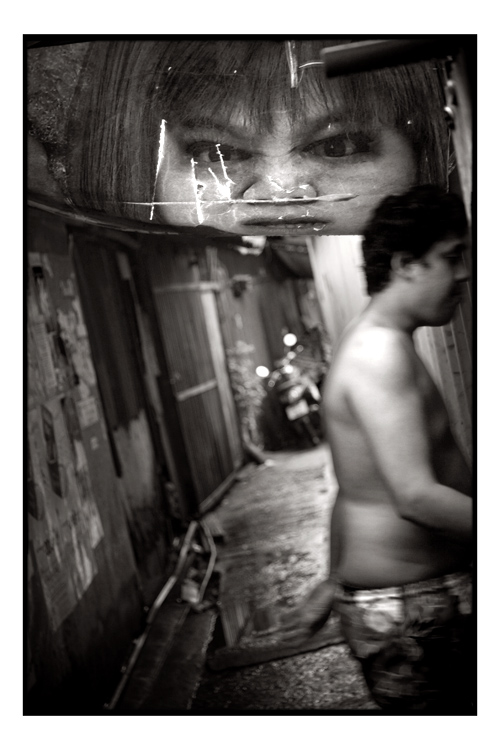 The path of the ghosts
© Simon Kolton

(27-08-2008)

<

Changwat Mae Hong Son

<

Thailand

<

Asia

PHOTO DESCRIPTION

I have never believed in ghosts, but sometimes in Klong toie I made strange meetings.

add: maybe i should give some explanation about this ghost face.
It was an advertising cover certainly for a horror movie, here used as roof to protect from the rain.

add : Even i like the color version i dont like much to mix black & white and color picture in this project.
Thank you Steve, you convinced me.

| | |
| --- | --- |
| APN | CANON - Canon EOS 5D |
| Registred camera | CANON Canon EOS 5D with CANON EF 16-35mm f/2.8L II USM (Reflex camera) |
| EXIF information | f:4 - 1/60 - 800 ISO (no flash) |
| Orignal filename | reupload_bwimg_7966.jpg |
comments
01/10/2009
salut Simon,
I prefer the coloured version, but indeed for the project it's best to follow the b&w. It's almost surrealistic ! Great image, very strong !
greetz, inn
01/10/2009
Tu ne m'en voudras pas de préférer la version bleuâtre, même si je comprends ton souci d'homogénéité. Ta propension pour des films d'horreur est très troublante (je pense à l'image dans le taxi). A ce rythme, je me demande quand est-ce que tu nous sortiras Shining et l'Exorciste revisited. J'aurais, perso, adhéré plus facilement au genre pseudo-érotique dans la verve du Dernier Tango à Paris mais je présume qu'on ne peut pas tout avoir. Ce projet est très bien. Gal

01/09/2009
I really liked the colour version of this, but I agree with you and Steve that for the consistency of the project this was best in b/w. it's an amazing effect you got with this tarp. I can't get my head around the field of focus...

01/09/2009
I agree that the BW fits better in the project, but the colour version was three hundred times better. If I were you, I would find another project for the colour picture. The BW does not even come close to the colour version in terms of the punch and the mood it had.
01/09/2009
Hey...this guy is escaping from Siddharta's project : he wasn't fit enough...

Love the blue tones, a bit like Jim Morrison's "strange days" album cover... but once everybody has gone.
01/08/2009
That's a killer image Simon but for the flow of the project I'd do it in B&W...
01/08/2009
Hi Fly!
really crazy image!
i love the green tones too

01/08/2009
holy moly, that's one scarry crap here, not sure how the ghost at the top appeared, is this a reflection, a poster or what, but this is haunting, love the colour as well.
Composition I think would need a bit extra on the left ;-)
01/08/2009
A fierce and savage shot, Simon, very powerful. Full-on, crazy backstreet scene.
WOW!
A+
-F-

ps. Au fait tu me voles mes fantomes, maintenant, FLy...;o) Pas sympa ca vu les merdes que j'ai eu avec. Enfin je saurai ou chercher dorenavant...