/photo view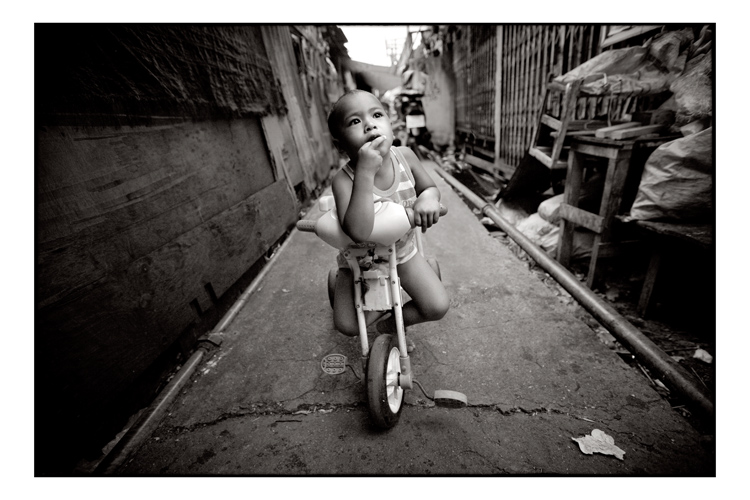 child dream
© Simon Kolton

(07-09-2008)

<

Bangkok

<

Thailand

<

Asia

PHOTO DESCRIPTION

Maybe he dreams about a Harley, who knows !!
| | |
| --- | --- |
| APN | CANON - Canon EOS 5D |
| Registred camera | CANON Canon EOS 5D with CANON EF 16-35mm f/2.8L II USM (Reflex camera) |
| EXIF information | f:3,2 - 1/40 - 800 ISO (no flash) |
| Orignal filename | img_1873_bis.jpg |
comments
01/27/2009
Man, this is great...your eye with the wide angle is awesome.
01/26/2009
Une image hallucinante Simon. Un peu surnaturel ... Les lignes de forces sont là ;)
Bravo et désolé de commenter si tard ...
nono

01/09/2009
:D i think he is . he really has that "thinking-face". very nice portrait, nice compo and graytones !
01/08/2009
Hi Fly, very very good image!
the perspective, the conversion, the expression of the boy...his eyes..
great one

01/06/2009

Born to be wild (c'est moi ou il te montre son majeur ;o) discrètement ??). Peut-être un peu trop frontal comme protrait ... Jolies ces lignes dynamiques en contraste avec la quiétude du sujet.

01/05/2009
I am a sucker for wide angle shot, so here you go I like it.
The expression on the kid is priceless.
Personally I think I would have gone vertical with this shot, a vertical frame I believe would have removed the clutter on the right and added even more focus on the subject. Just my 2 cents
Great shot nonetheless
D

01/05/2009
Here you have precisely that kind of "SImulux" glow I was talking about with the previous shot (even though you are using the same lens) - this little boy GLOWS in the middle of this scene - beautifully executed, the way the derelict background simply "falls away" from him...
01/05/2009
yes, really beautiful, even if he's giving the middle finger :)
01/05/2009
Don't know what to say Simon.....spectacular perhaps....a fav
01/05/2009
Man, he is the reincarnation of Marlon Brando half way between the attitude of The Wild One and the hair cut of Apocalypse Now. What else can one ask to build a myth? Excellent Thai Rebel Without a Cause portraying. I can hear the roar of his engine, and loads of girls weeping for the grief and tenderness in his eyes. Made to become a movie star. And we all know that movie stars make us cry, don't we...?

01/05/2009
It's a child version of The Thinker. Awesome shot Fly. Love his expression and body language, and I love the perspective lines pointing us to him.