/photo view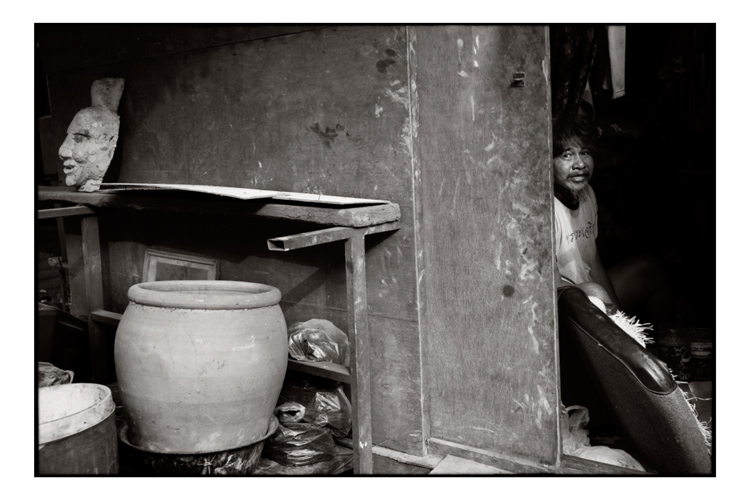 The sculptor
© Simon Kolton

(07-12-2007)

<

Bangkok

<

Thailand

<

Asia

PHOTO DESCRIPTION

The meeting with this man was a very moving moment, spent long time to speak with him. This man was an artist, a sculptor, but for few years he is practically paralyzed and cannot exercise any more his art. Certainly the last thing which had to make him live.
Maybe when i reduced this picture the result was a bit to sharp, i reupload the same with 1.5 blur before the reduction.
Thx Francis

| | |
| --- | --- |
| APN | CANON - Canon EOS 5D |
| Registred camera | CANON Canon EOS 5D with CANON EF 16-35mm f/2.8L II USM (Reflex camera) |
| EXIF information | f:5 - 1/100 - 400 ISO (no flash) |
| Orignal filename | reupload_7330blur.jpg |
comments
01/05/2009
I'm with Steve here, it's a nice photo, nothing wrong technically, it's just not up to par with your usual work. The story is not clear, without your note I would not know that this man was an artist or that he was paralyzed.

Sorry man,
af

01/05/2009
Sad words Simon but for me the image doesn't really work. I'm sure I'll be in the minority here but a paralised sculptor in his one time atelier should have been portrayed in a more powerfull, less suble way. I mean I don't see that he's paralised do I...
I think it's the weakest composition in your beautiful series so far. Perhaps you have a different pov of this man in his atelier??
01/05/2009
Interesting. The sculptor is paralyzed and of course so is the statue on the left.
This is how this double subject gets all its meaning. Great picture.

01/05/2009
It is increasingly a mystery to me my dear Simon why some truly worthy and revealing pictures just don't attract any attention on the site. I took the trouble to read your unusually explicit and careful note along with the picture and I think you've got a powerful package there in what I think is one of your best series, all in all. You intelligently display the "work" front and center and then show the m,an almost "lurking" behind, a ghost in his own studio, no longer able to perform. Very strong work, I know you worked the angles on this one, probably took a whole series of shots and finally settled on this one.
A worthy addition to this gritty project.
Voila!
-F-

ps J'ajouterais qu'elle est d'une grande subtilite cette image, SImon et qu'elle plairait beaucoup a mes "cousins" du japon... C'est ce genre de travail plus "suggestif" qu'explicatoire qui plait beaucoup ici. Moi aussi j'apprecie, beaucoup.

pps. Cete photo me fascine (il y a quelquechose du cinema de Kurozawa la-dedans, je peux pas expliquer... Une suggestion cependant: ton traitement est si possible un peu trop lucide, trop "sharp" je pense qu'un peu plus de flou, un effet summilux 35 ;o) ou meme si tu t'etais servi de ton fabuleux 35 F1.4... la poesi en serait encore plus ressortie. Tu vois ou je veux en venir - ce n'est pas unhe grosse critique remarque, juste une suggestion, c'est tout.