/photo view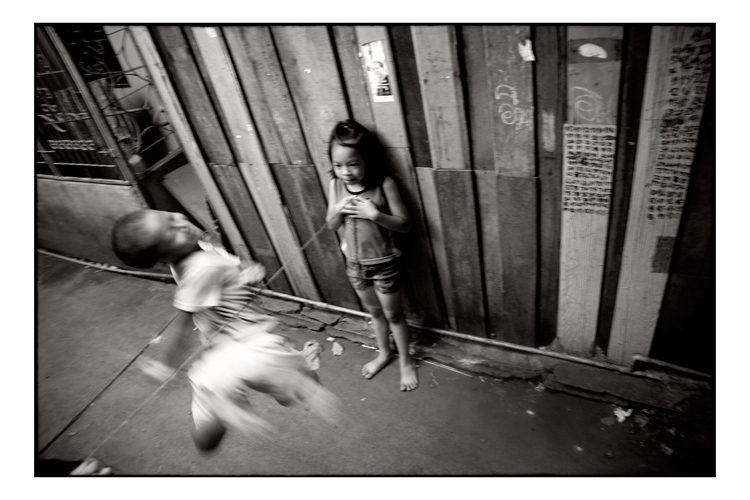 jump
© Simon Kolton

(28-08-2008)

<

Bangkok

<

Thailand

<

Asia

PHOTO DESCRIPTION

In the dark alleys of Khlong toei the children play the elastic.
| | |
| --- | --- |
| APN | Canon Canon EOS 5D |
| Registred camera | CANON Canon EOS 5D with CANON EF 24-105mm f/4L IS USM (Reflex camera) |
| EXIF information | f:5 - 1/50 - 800 ISO (no flash) |
| Orignal filename | img_8328.jpg |
comments
01/09/2009
Wow. I love this shot. Even though the focus seems to be on her feet rather than her face, it still sings. It looks like you were flying too, taking the photo from a leaping aerial vantage point. Best, -h.

01/04/2009
J'aime le mouvement, l'instant saisi, le léger flou sur la petite fille ne me gêne pas trop, de toute façon on sait que l'AF chez Canon est en option ;o) ! Néanmoins on peut t'accorder le coup d'oeil car tous les éléments essentiels sont parfaitement placés dans cette composition ainsi que toutes les lignes convergeant vers le même point.

01/03/2009
Autant j'aime beaucoup le mouvement de la fille qui saute, autant je ne suis nullement convaincu par le flou dans lequel celle qui tient l'élastique est plongée. Mais je manque peut-être d'objectivité; j'ai en mémoire une des tes photos avec des filles jouant à l'élastique, que je trouvais brillante. Le point de vue et la composition restent excellentes. Toutes ces lignes verticales en arrière plan produisent un effet de perspective intéressant. Gal

01/03/2009
nice one, fly! love the blur and the dynamics...and most of all the joy of the child in mid-air. wonderful!
01/03/2009
Hi Simon,
Wish you a happy and wonderful 2009.
The shot is full of dynamism. The blurred motion adds nice effect here. The only thing I want to see the inclusion of the other child who gripped the rope.
Regards.
partha

01/02/2009
Wow, some timing there, Fly! A very good representation of the ingenuity of poor children who make do with nothing and somehow manage to entertain themselves in the street. Tough, resonant series... -F-
01/02/2009
Hola!
j'aime beaucoup cette scène, comme le reste des autres photos de cette série tu transmets quelque chose de spécial, de jovial et du mouvement que ce lieu respire. Dommage, un peu que la netteté ne soit pas plus marqué sur le reste de la scène,...mais a 1/50 on ne fait pas des miracles.

J'attende pour le reste de la serie...

Javier