/photo view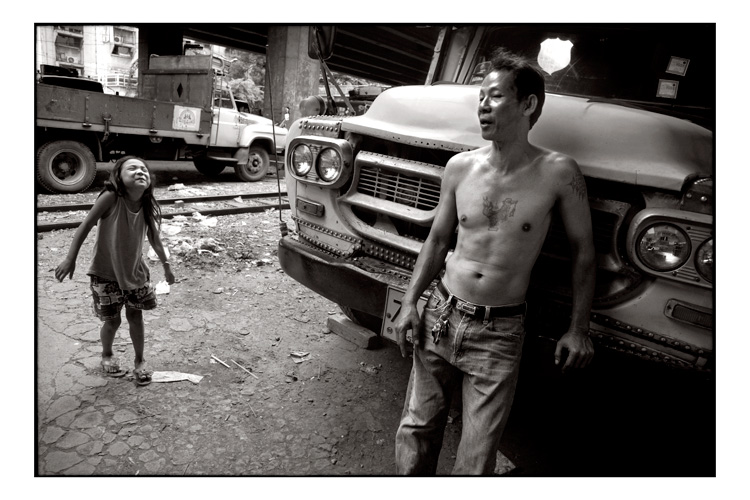 the shy girl and the driver
© Simon Kolton

(28-08-2008)

<

Bangkok

<

Thailand

<

Asia

PHOTO DESCRIPTION

A simple picture during my walk in Klong toei. And some people i have met there.
Here a truck driver and a shy little girl. with a Thai friend i was walking there and enjoyed talking with people. Here below the freeway the drivers park their trucks either repair them. I like these moment, or having begun the conversation, people forget the camera.

| | |
| --- | --- |
| APN | Canon Canon EOS 5D |
| Registred camera | CANON Canon EOS 5D with CANON EF 24-105mm f/4L IS USM (Reflex camera) |
| EXIF information | f:6,3 - 1/100 - 800 ISO (no flash) |
| Orignal filename | img_8289.jpg |
comments
01/19/2009
Sans aucun doute ma préférée de la série. Le cadre, la composition, les tonalités du n&b, mais aussi un univers dans lequel on plonge immédiatement.
Une photo qui raconte une histoire.
01/09/2009
hello Simon,
Wow, this one is also amazing. Like Steve says : the light is really well managed ! It's like a moviescene .
inn
12/29/2008
A spectacular daily life shot Simon. The light is mannaged so nice, so subtle. I think the driver would be perfect for a more close portrait, featuring his tatoos....him being bare-chest and all

Wishing you a happy new year
Steve
12/29/2008
Bonjour du Cambodge Simon ou il pleut sur Phnom Penh ce soir - chaude journee... Battambang nous a decu - un bled poussiereux, pollue a mort, une population morne et grincheuse, je sais que l'on m'en voudra de le dire mais... ca ne m'a pas empeche de tirer comme un dingue (il fautr bien prendre des photos, non?)

Tres belle cell-ci, un peu film noir et tres "vraie" dans ce qu'elle represente. Une certaine poesie aussi - de la tres belle photo. Je serais de retour (et en circulation) des le 1er de l'an. A bientot et meilleurs voeux,
Francis

12/29/2008
Une très belle composition avec une atmosphere paisible et pleine de petits émotions. Un beau contrast entre la durté du camioner et la petit fillet timide.
Le noir et blanc est magnifique, vraiment.
Hasta la vista, et bonne fin d'année !
Javier
12/29/2008
Hi Simon,
It is really a brave project. The emotions of the truck driver and the little girl adds nice feeling in this shot and you have captured the perfect posture. Want to see more .
Partha

12/29/2008
So beautiful again, Simon, a real nice side of life... the moment you caught is perfect, the little girl bursting out laughter, wonderfully seen, caught with a perfect tilt, of course :)
sasa
12/28/2008
A very good detail of life on the street
the natural expressions are really good, especially the girl's expression
nice one
ciao
Valeria

12/28/2008
Une belle scene toute simple mais pleine de vie et d'histoire... Joyeux Noel Simon!