/photo view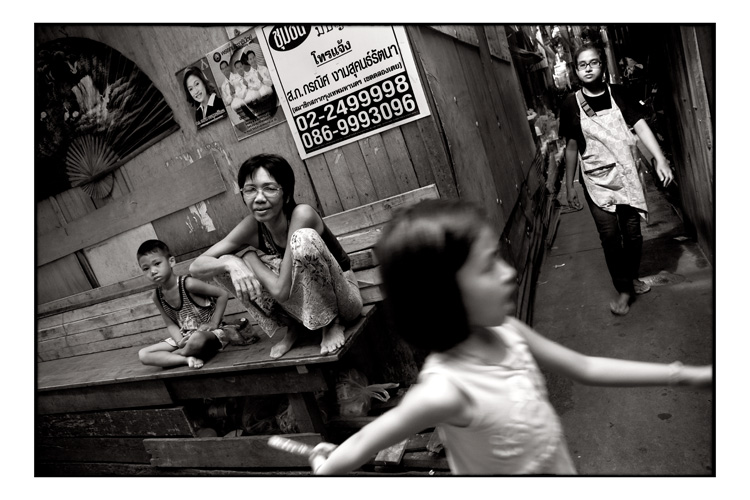 The labyrinth
© Simon Kolton

(28-08-2008)

<

Bangkok

<

Thailand

<

Asia

PHOTO DESCRIPTION

Certain part of Klong toei are a true labyrinth. I often lost my way there, it is maybe one of things which it is interesting in street photography. The place is dark and the smell not always good, but I like walking in these alleys on the meeting of people.

| | |
| --- | --- |
| APN | Canon Canon EOS 5D |
| Registred camera | CANON Canon EOS 5D with CANON EF 24-105mm f/4L IS USM (Reflex camera) |
| EXIF information | f:5,6 - 1/60 - 800 ISO (no flash) |
| Orignal filename | img_8181.jpg |
comments
02/24/2009
je choisis celle ci par le mouvement et le gestuelle de la fillette au premier plan, du dynamisme ici, et la tranquillité "zen" de la femme à l'enfant derrière contraste tant!

01/09/2009
hello Simon,
A very beautiful image, the compo is very nice. You created a very special mood here . In my favs !!!!
inn
01/06/2009
Une photo qui donne vraiment envie d'aller à leur rencontre. J'imagine parfaitement ce labyrinthe avec ces trois perspectives. La fille au fond et en flou contrastent avec les deux autres personnes, plus relax. La compo est superbe!!
J'imagine la femme assise regardant vers le point de fuite vers la gauche, wowww, l'équilibre aurait été parfait (ça fait trop de gens qui te regardent, en plus des affiches :o)))

Je découvre peu à peu tes photos, c'est un vrai plaisir, merci.

Emmanuel
12/29/2008
Fly at the top of his game here with a thrillingly complex shot that somehow hangs together. This is the work that inspires and makes us want to go out there and SHOOT something really worthwhile. Tilted and perfectly balanced at the same time, like a great Winogrand shot...
A+
-F-

12/29/2008
Glad I haven't lost this, Fly... have been looking at it so long before when not in the mood of commenting... this is SO beautiful, so wonderfully innocent, the child's softly blurred swinging arms in the foreground anchoring the entire shot. Beautiful, another gem...
Wishing you a magical new year
sasa
12/28/2008
WOW superbe timing et j'aime bcp ce point de vue à l'intersection de ces deux passages qui amene une bonne perspective sur la scene. bravo!
12/28/2008
Hello Simon,
Un petit coucou de Delhi. Greve RATP, a 5 minutes on loupait l`avion ... :)
Le timing appuie cette compo de premier ordre. C est une fois de plus tres reussi ;) Bravo.
J ai remis hier ta boite a lumiere a Sohrab, gros sourire :) Ca lui a fait nien plaisir. On va tenter un labo au bord du Gange ... :)
Encore merci !
nono
12/26/2008
Full of live, full of movement...and full of details very interestings. Nice compo Simon, and really nice B&W. I like the movement of the girld in front of you, nice add.

Javier

12/26/2008
amazing streetshot Fly, really special stuff. the triangular compo of the people and the tilt is beautiful--but it's the expressions and body language that make it special. Too bad about the chopped off hand, but wow on the dynamic motion of the girl.

A happy shot for the holidays!

12/26/2008
Hi Simon....I think you are more into free style shooting.....and here in this photograph the elements have come together graciously....i like the way you have managed to juxtapose the 'street corner' along with the human characters...and you b&w is usually nice with their tonality...

12/25/2008
Excellent Simon!! There is soo much beauty here...the playful girl walking past in motion blur contrasts well with the seriousness of the boys' face on the bench.
Composition wise I don't think it can be done any better really...there's dynamism and depth...and lets not forget that perfect b&w conversion.
A fav
All the best
Steve
12/25/2008
Beautifully dynamic, Simon. Placing the child at the corner with this woman entering and the others waiting with mellow expression provide a balancing act. Beautiful photography.