/photo view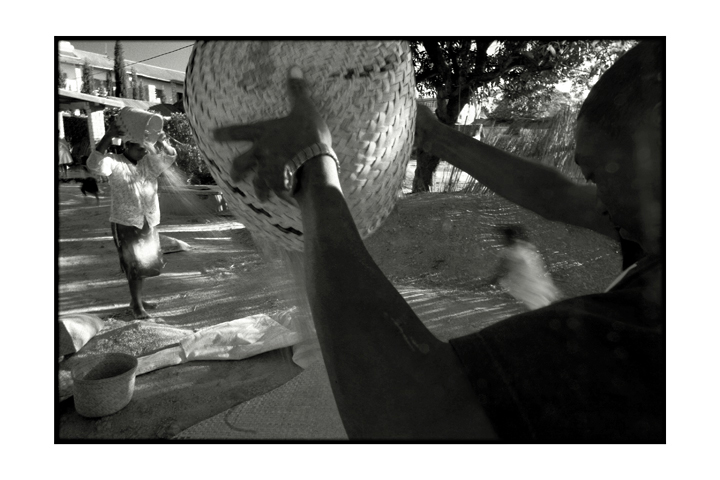 breath
© Arnaud DE

(01-05-2007)

<

Tulear

<

Madagascar

<

Africa

PHOTO DESCRIPTION

This is the last upload in this project (20).
1 year to close this one, is to much ... sorry for the yawns ;)
Taken in Tulear Southest of Madagascar, also.
| | |
| --- | --- |
| APN | CANON - Canon EOS 20D |
| Registred camera | CANON Canon EOS 20D with CANON EF 24-70mm f/2.8L USM (Reflex camera) |
| Orignal filename | mad26.jpg |
comments
01/19/2009
Une scène magnifique!!
Sans doute ma préférée de la série. Une photo digne des plus grands. La composition est saisissante et cette petite silhouette rajoute encore un intérêt à cette image. Tu as su t'effacer tout en étant très proche de cette femme, elle, ne fait plus attention à toi.
Alors bravo!!
12/20/2008
Et de vingt, mais quel millésime Arnaud !!!
le dernière de la série est une perle de composition.
j'ai juste un regret dans cette magnifique scène et composition
c'est peu être que la petite fille ( je parle de cette silhouette entre le bras de l'homme ) soit un chouille trop motion blur, j'aurais voulu perso une silhouette un tout petit peu mieux dessinée. Sinon Bravo pour cette photo et ce beau projet.
••fly••

12/20/2008
Superb POV and depth Arnaud. It is one of those pictures where I as a viewer become speechless
12/20/2008
flawless image, and a fantastic ending to a wonderfull project. Went through the images and gotta say most of them are absolutely spectacular, it shows not only your skill as a photographer but also editor, you have picked real gems, perhaps having one year to do that made a difference, you are showing all of us how it's suppose to be done.
One thing I notice though, there seem to be two parts to this project, one is portraiture with very clean composition, and the second part more complex street photography, perhaps you would have enough material to make two different projects out of it.
12/19/2008
Et peut-etre la meilleure image, Arnaud, que tu avais gardee pour la fin... L'ombre, c'est a dire la silhouette decoupee sur a gauche est FANTASTIQUE, atant en esquisse qu'en grand ouvert. Absoluement brillant comme travail. Seulement il faudrait uploader un peu plus (et pour certains d'entre nous, un peu moins...encore que les affacages, ca soulage...;o)) favo our Nono.
12/19/2008
hello Arnaud,

A great composition , full of life and movement. I think Madagascar is a dream for photography, it's on my wishes-list ;)
I think the colours would have been very interesting too, maybe a bit distracting from the compo, so i think you made the good choice here. The layers work very well here.
greetings, inn
12/19/2008
Great project indeed Arnaud. Much enjoyed. And a great finish as well. It was worth waiting a whole year.

Cheers

12/19/2008
Another master composition, original, and at the same time giving a lot of information about the place to feel and imagine. If I can say something about your projet ( I will made the final comment later), is that your pictures one by one, make me to dream about this far place, and to take the quiet rytme of live of this place.

Nice, really nice your projet, and this last picture, not easy to end I can imagine, and not easy to choice the last picture too.

Hasta la vista,

Javier