/photo view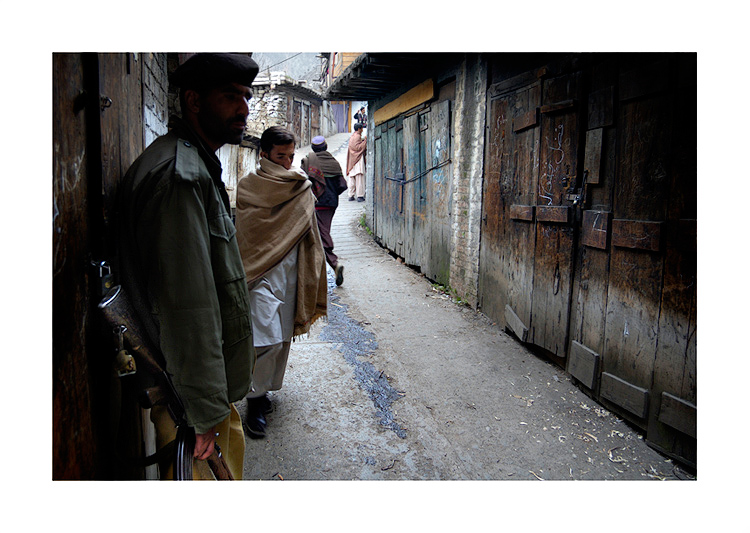 Armed escort II
© Steve Viscot

(10-12-2004)

<

North-West Frontier Province

<

Pakistan

<

Asia

PHOTO DESCRIPTION

This soldier was assigned to us for our safety in the town of Madyan. The authorities keep strict track on you while in Pakistan. Kidknapped foreigners are bad PR. I often felt a little uneasy when one of these guys is sitting next to you, playing with his kalashnikov, in a small taxi driving over a bumpy road. To be honest I never felt unsafe during the 1 month in Pakistan. In my opinion the people of the North West Frontier by the Afghan border are among the most hospitable you can ever hope to meet. The frase " welcome to my house, I'll protect you with my life" is one I heard often. And you can be sure they mean it. After welcoming you with tea you'll then be taken to the gun collection of the house...strange place
| | |
| --- | --- |
| APN | NIKON CORPORATION - NIKON D70 |
| Registred camera | NIKON CORPORATION NIKON D70 with NIKON AF 18-35mm f3.5-5.6 (Reflex camera) |
| EXIF information | f:4,5 - 1/80 - 200 ISO (no flash) |
| Orignal filename | _dsc7367c.jpg |
comments
12/26/2008
Hi Steve, great documentary picture...really impressive..
for the subjects, for the position of the men....in a line...
bravo bravo
ciao
Valeria

12/15/2008
Very photojournalistic, remote, sinister, cold, yet suffused with that strange fascination for lands far away.

12/14/2008
Hola;
nice documentary picture. I like a lot how you have play with the lights, giving a dark feeling, and just showing what can makes us to imagine the atmosphere of the place...the kalashnicof, and the street how goes inside the city. Nice composition too,

Hasta la vista,

Javier

PS: the soldier is the soldier of your portrait series ?
and what you have done in Pakistan...ONG job ?

12/14/2008
Good documentary picture Steve. A gun on picture is always so scary for me.
i like how this picture is composed from the first man in foreground to the last one. we have just to follow this small street, a fine journalistique picture.
••fly••

12/14/2008
Hmmm, I'm not sure people DONT know what to say, just that they don't really get it. You've managed to disengage us from the tremor you might have felt besides this soldier. That, for me, is the charm here...there is something comfoting here about this shot. Maybe it's the lack of faces, and therefore expressions; maybe it's the subtle hues poking through the thick darkness. It is a first rate shot...very fine documentary work.
12/14/2008
First rate photo journalism, Steve, with an artistic touch. This is an important picture on this site, a "serious" picture. I am personally saddened that it hasn't provoked more comments because it is extremely deserving. I cannot imagine standing in that spot and coming away with anything as good, certainly not better. Colors are subdued and modest as per your style, and that is fine too. Compositionally it is an excellent example of what I call the serpentine", the way the eye snakes along that narrow street all the way to the tiny figure at the top... Do NOT be discouraged by lack of comments - many people are clearly looking at this picture, maybe they don't know what to say but I want you to know that it is of very distinguished and very valuable, okay?
12/13/2008
hello Steve,
iedereen zou zeggen : "wa doe de daar in godsnaam ???? " :))
looks quite dangerous, even when they say they will protect you. you will never find me there, thanks a lot :))
but, it's a great photo, the feeling of depth, the play with the light and the daily life . one has the impression that they even didn't see you . great catch !
inn