/photo view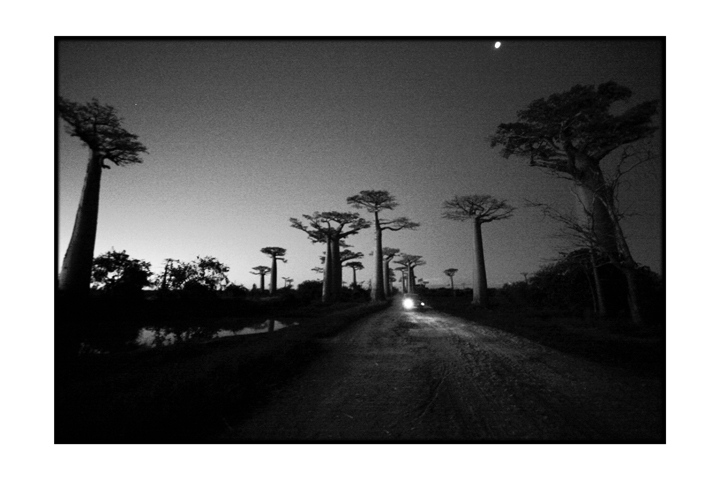 close your eyes
© Arnaud DE

(01-05-2007)

<

Morondava

<

Madagascar

<

Africa

PHOTO DESCRIPTION

Taken in the southest of Madagascar.

| | |
| --- | --- |
| APN | CANON - Canon EOS 20D |
| Registred camera | CANON Canon EOS 20D with CANON EF-S 10-22mm f/3.5-4.5 USM (Reflex camera) |
| EXIF information | f:3.5 - 1/6 - 0 ISO (no flash) |
| Orignal filename | mad25.jpg |
comments
12/22/2008
Bonsoir Nono ,
J'aime beaucoup cette image, et ce pour plein de raisons :
Le point de vue impressionnant .
Les baobabs très connus mais avec un dépoussiérage à la Nono
Cette ambiance moite de nuit africaine
la voiture Cyclope intemporelle qui laisse place à la rêverie
( j'imagine une traction avant qui file vers nous )
un noir et blanc qui capte avec subtilité les faibles lumières.
Alors j'applaudis des 2 mains.
Tom
12/20/2008
I watched a documentary once about these trees, was quite interesting.

I like the eerie touch you've added to this image, the car with a broken headlight certainly drives this through to us. Those trees also make the scene so much more surreal.

12/15/2008
Lovely composition, with the headlight and the moon beautifully rendered in this fabled landscape of Dr. Seuss. Beautiful grainy atmosphere.

12/13/2008
hello Arnaud,
I like the strange light and the lonely feeling here. great work. oh, i love those artistic trees ... so beautiful !
inn :)
12/10/2008
Eh oui...j'ai lu les commentaires de mes prédécesseurs et je suis d'accord...quand on pourra avoir des photos avec une petit bande musicale ?!!! ici aurait été une merveille d'entendre les grillons.

Autrement dit: très belle image,que me rappel à mon voyage au mali, avec ses baobabs et grillons qui chantaient toute la nuit...:-)

Hasta la vista,

Javier

12/10/2008
Faut le faire, Nono! Tu tires avec un Eos 20D et le 10-22, y'a pas plus limpide que ca comme combo, et tu finis avec un look "Holga". Remarque l'inverse serait plus ardu: donner a l'Holga la limpidite d'un Eos ;o) Oui, comme le fit FLy, tout en reve et plein des chuchotements des nuits tropicales... A+ Francis
12/09/2008
J'aimerais bien sentir et entendre, cette image me donne envie de chaleur nocturne
et les bruits des insectes ;o). Elle est belle cette image avec ces gros bao qui longent la route. Ha oui je ferme les yeux et j'entends les grillons ;o)
••fly••