/photo view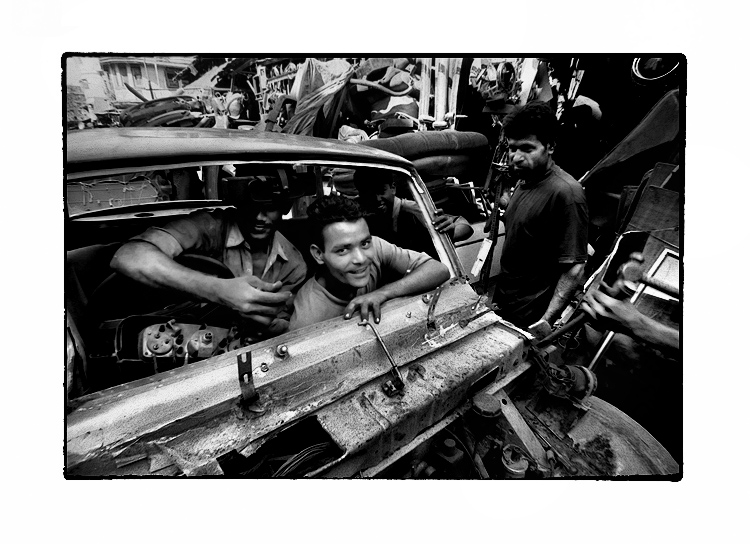 Scrap yard workers
© Steve Viscot

(01-12-2008)

<

Mumbai (Bombay)

<

India

<

Asia

PHOTO DESCRIPTION

The area around Chor Bazar is a warren of small streets where old cars are dismanteled and every possible piece of the wrecks is recycled
| | |
| --- | --- |
| APN | NIKON - F3 |
| Registred camera | NIKON F3 (Reflex camera) |
| Orignal filename | reupload_img260.jpg |
comments
03/28/2009
bright BW, i like these arms, good photo reportage!
francine

03/25/2009
Love it Steve. not much to say just one picture i would like to take.
Soon ill show you a project in a part of Bangkok.
I like the to arms from those guys in the car. and this hand on the right border.
great one
••fly••

---------------

ADD i can see the logo reloaded but cant see the old picture
have you worked on the contrat ?


12/13/2008
hello Steve,

Wow, interestings shot. very well composed and great in b&w. I like such photos very much, they tell a lot.
inn
12/01/2008
And another good add to this great projet. The lights are really goods, but the best is the complicity beetwen you and the men.

Well seen, and well done...

Javier

12/01/2008
Hi Steve:
I too wish I'd taken this one - nothing to nitpick about - it's a vibrant, extremely well jusged piece of reportage with a luminous quality to it. First class!

12/01/2008
Hi Steve,
A thrilling photograph! This is a rare occasion when posing (and wolfing) by the subjects come across so well by creating an atmosphere of dynamism and lightness. Their lightness of mood contrasts very well against the context of their dreary surroundings.
Excellent photojournalism.
Animesh