/photo view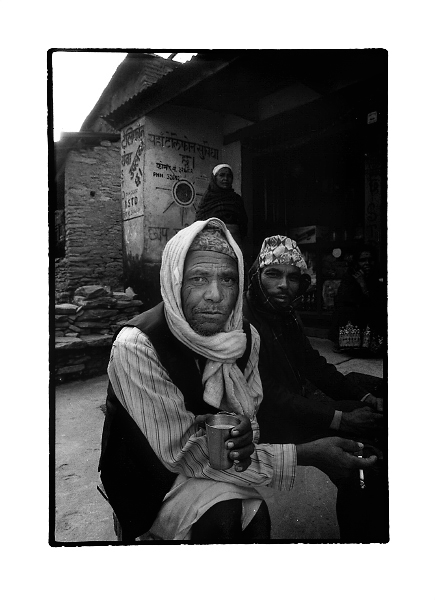 Tea time
© Steve Viscot

(27-11-2008)

<

Annapurna region

<

Nepal

<

Asia

PHOTO DESCRIPTION

Early morning tea in a village along the Annapurna trek
| | |
| --- | --- |
| APN | NIKON - F3 |
| Registred camera | NIKON F3 (Reflex camera) |
| Orignal filename | img252.jpg |
comments
12/13/2008
hello Steve,
Beautiful portrait of this strong men ... i remember carrying them all of our luggage into the mountains on their plastic slippers, while we were fighting to get higher with our daypack .... amazing guys !
very nice in b&w !
see you, inn
11/28/2008
Classically composed, Steve, a tight "environmental portrait". The morning chill is well-captured. I particularly like the woman in the distance--makes a nice triangle. The painting on the wall (Compass diagram?) adds a very nice element of graphic element. Love the gentle flare on the top left corner--as if a fog is rolling into the scene. Cold. Beautiful.
Best wishes,
Animesh

11/28/2008
Solid shot, Steve, as well composed in the useful threesome format as the BW is striking (perhaps just a touch too dark on my screen at work...oops!) Stark, resonant work.

11/27/2008
Hello Steve,
it is a remarkable project, so well balanced. The result of the prints cannot be compared with anything in digital, seems to me...so textured and beautiful. A simple yet rich scene, love the details of that hand holding the tea, the calm watchful expressions and the woman in the background watching, finishing the triangle.
Greetings, Michèle
11/27/2008
Nice add to your projet. I like a lot this three persons looking at you, specially the first man, with the drink on one hand and the cigaret on the other...what else? ;-)

Hasta la vista,

Javier

11/27/2008
Simple and nice scene Steve, a nice add i, your proofs serie.
awesome bmack and white. always liked to see man drinking and smoking.
••fly••