/photo view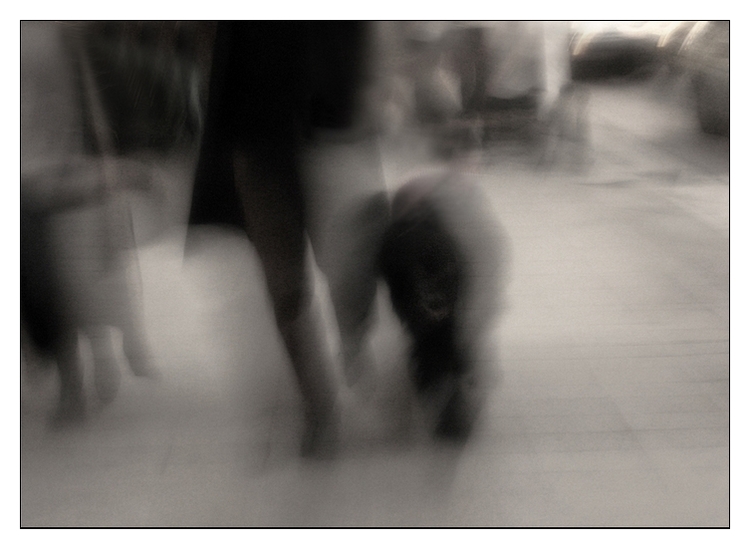 Ghost dog
© Michelle Suzanne

(22-12-2007)

<

Provincie Antwerpen

<

Belgium

<

Europe

PHOTO DESCRIPTION

27/11/08 Following Simon and Valeria's judicious remark I have cloned out the sharp light on the foreground and indeed I think it looks better.

The title is an homage to Jim Jarmush's fantastic film : "Ghost dog, the way of the samurai", with the excellent Forest Whitaker.

I feel always sorry for these big dogs who live in towns, most of them do not get the exercise they need, there is a certain fashion around to have huge dogs, even huger cars... the owners either are more of the rich kind, or youths who want to impress with them. I do far too often see a sad look in their eyes. In Iceland , for example, dogs are not allowed in Reykjavik, you can own them but have to bring them outside town for a walk. I would agree to that, with an exception for the smaller ones, sorry if I tramp on somebody's paws:-). Taken last year during the pre-Christmas rush.
| | |
| --- | --- |
| APN | AgfaPhoto GmbH - d-lab.2/3 |
| Registred camera | AgfaPhoto GmbH d-lab.2/3 with CANON EF-S 17-55mm f/2.8 IS USM (Reflex camera) |
| EXIF information | f:6,3 - 1/4 - 200 ISO (no flash) |
| Orignal filename | reupload_phimgrrepost_4209.jpg |
comments
12/13/2008
salut Michele,
Very nice "spooky" image. I also prefer the second version without the lines, it disturbed the image . great work, you know i like photos like this :)))
hope you're fine. i'm not so much on PH the last time, will have to comment a lot now :))
inn
11/27/2008
Love the sensation of this picture. a dream !!!!
Maybe i would love to retouche the line on the top left
it seems to sharp if your compare the softnes of this picture.
Just a détail. well done Michele
••fly••

PS seems here you not shake your Z but your cam hahaha

Add
much better for me Michele, this detail was a bit disturbing, well done. ;o)
the picture look more smooth now

11/27/2008
Hi Michele, i like a lot this vision of the world
a blur well captured
i agree with Simon, it was better to remove the strong lines on the left side
well captured
ciao
Valeria

11/26/2008
Good capture of the dog here, Michele. A real nice blur, but enough of the dog's head to ive the photo a bit of meaning, i.e we can see some of his face.
11/26/2008
This required courage, Michelle, to do this. A brilliant impressionistic 'drawing'.

11/25/2008
Wonderful, gauzy texture here, a stunning job of suggesting something ethereal. Very confident "Pro" work t seems to me... Francis