/photo view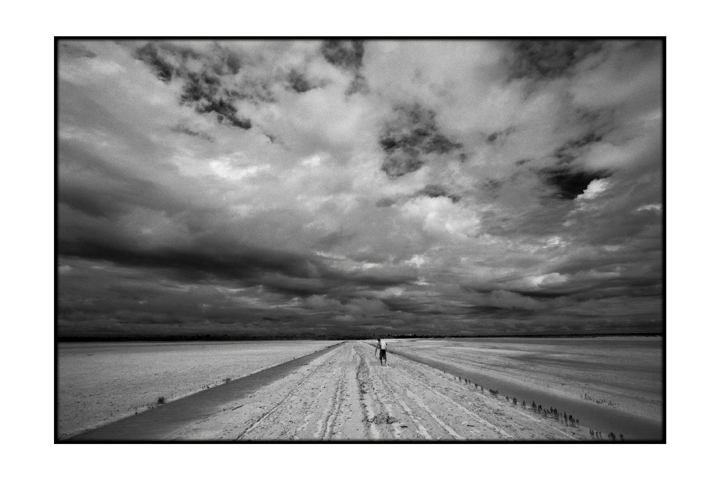 overdose
© Arnaud DE

(05-01-2008)

<

Belo Sur Mer

<

Madagascar

<

Africa

PHOTO DESCRIPTION

Walking in the salt, to the baobab forest in Belo Sur Mer.
Southeast of Madagascar.

| | |
| --- | --- |
| APN | CANON - Canon EOS 20D |
| Registred camera | CANON Canon EOS 20D with CANON EF-S 10-22mm f/3.5-4.5 USM (Reflex camera) |
| EXIF information | f:11 - 1/400 - 200 ISO (no flash) |
| Orignal filename | mad23.jpg |
comments
11/26/2008
salut Arnaud, this is the type of image i love
with a subject so little in the middle of the world, of the nature
the great space, the long road, the great space to the sky....
i can say only WONDERFUL
ciao!
valeria

11/25/2008
C'et encore loin la maison pépé chu fatigué :o)
une belle photot arnaud classic mais ça marche plutot bien. un superbe ciel un beau noir et blanc, bref une belle image :o)
••fly••

11/24/2008
Beautiful sky and a vast landscape. Very nice tonality.

11/23/2008
hello Arnaud,
A very impressing image, something mysterious here ! I like the composition with the tiny figure walking to the forest ... poor guy, it looks a long way to go !!!
greetings, inn
11/23/2008
Got to love that sky! Together with the vast expanse of salt.
Really beautiful. The small size doesn't do justice to it

All the best
Steve
11/22/2008
Wonderful, how powerful the sense of the wild wide dry landscape is. And that tiny man...The movement in the sky against the flat land makes for an interesting contrast. Love the dark thin line of the horizon, almost menacing. Very cinematographic, one could imagine plenty of stories here, compliments Arnaud!
11/22/2008
Stunning, I'm really drawn to imagery that has an "epic" quality to it, and this most certainly does!
11/21/2008
belle belle image...la profondeur est impressionnante, et l'homme en train de marcher fait pitié...on dirai qu'il marche vers l'infinie.
Le ciel bien contraste rajoute du dramatisme à la scène.

Hasta la vista,

Javier

11/21/2008
Une image classique, Arnaud, tout y est. J'aime aussi le titre evocateur d'une grande chaleur, d'un "trop" au sein de cette nature... A+ Francis