/photo view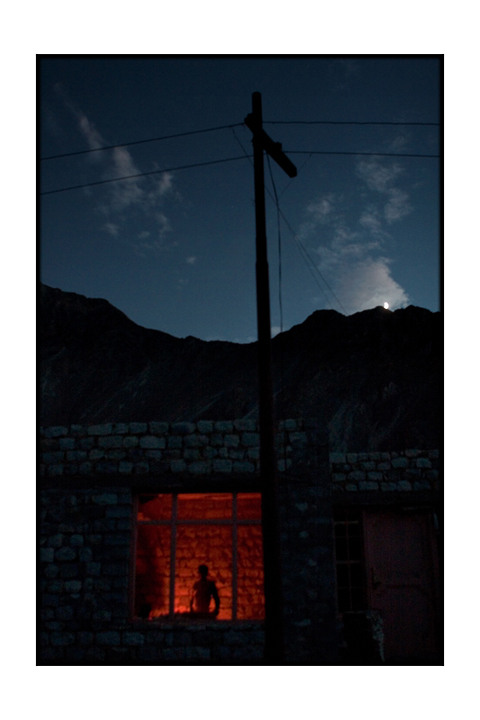 new begining
© Arnaud DE

(01-08-2008)

<

Hunder

<

India

<

Asia

PHOTO DESCRIPTION

This is the last photo of this baby project. It's a bit short but I don't feel 'the' others photographs could be add something. Close this project in the beautiful and very quiet Nubra Valley is cool too :)
| | |
| --- | --- |
| APN | CANON - Canon EOS 20D |
| Registred camera | CANON Canon EOS 20D with CANON EF 24-70mm f/2.8L USM (Reflex camera) |
| EXIF information | f:2.8 - 1/6 - 1600 ISO (no flash) |
| Orignal filename | vi8.jpg |
comments
11/04/2009
Absolute favorite, I don't know how I missed this shot...
COLORS!
01/11/2009
Magnificent Arnaud. A telling composition of contrasting colours pinned down by the telegraph pole. And the lone human figure. . . Best wishes Stephen
12/06/2008
Celle-ci pourrait être ailleurs, même si on retrouve ces montagnes himalayennes si envoutantes, hautes et belles... Ce contraste chromatique entre un ciel qui se lève (?) et cet intérieur me fait rêver, le poteau electrique aussi, avec son omniprésence au Ladakh... Que de beaux souvenirs qui remontent à la surface... merci Nono!
11/15/2008
Ha ben oui j'avaiss oublier celle ci
cette image apporte une autre dimension a ce projet, mysterieuse a souhait
une tres belle image d'ambiance.
••fly••

11/15/2008
"And on this bombshell we end this program" as Jeremy Clarkson would say...
You chose one seriously impressive image to end this project. The red light agains that sky is so visualy beautiful.
I must say that the donkey and this one are my favoruites in the series. Both for the use of light.

All the best
Steve
11/15/2008
Genial ca, Arnaud, autant sur le plan composition que couleurs. Toujours dans ce domaine onirique, de reve... Tres beau. Special. Grand bonjour du Japon, Francis
11/14/2008
hello Arnaud,
What an awesome photo ! The colours are so beautiful and special. A great compo with the person standing in the red light and the little piece of the moon. It reminds me of Magritte-paintings : the daylight in combination with evening-or nightlight. It does have something surrealistic for me . I really love it !!!
greetings, inn
11/14/2008
Salut Arnaud, fantastic contrast of lights and colours
the silhouette is just perfect
a great image to close the project
ciao
valeria

11/14/2008
You're killing us with this closer Arnaud, just a beautiful image. I love the figure (female?) in the large red lit window. A moonlit sky in the background, it screams a favorite!

Take care,

Brian

11/14/2008
Hola!
a very interesting projet, different and very personal. Not the kind of picture that I like usually,...I have thought a lot about it, and it was interesting to see something really different. The difference shake the mind, and it's impossible to not feel something, and I think that this is the best...to feel something when we see a picture. There are hundreds of pictures that I have seen, and I have said: "Great picture, I like it!".Certainly it was a good picture, but most of the time I have just toke a look for few seconds...with your projet, and specialy with this picture, I have rest for a large moment, looking, sherching, feeling...I like the composition, with the inside and the outside part, I like the contrast colours and the contrast lights...but the blurred silhuette on the window is just what minds needs to imagine for a long long moment. There are the poesie...

I hope to see you another projet of you quickly...I will wait.

Hasta la vista,

Javier