/photo view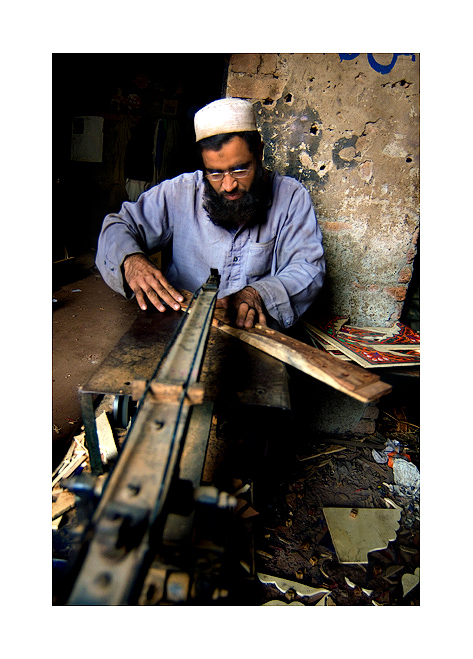 Carpenter
© Steve Viscot

(05-11-2008)

<

Peshawar

<

Pakistan

<

Asia

PHOTO DESCRIPTION

At a truck refurbishment atelier in Peshawar a carpenter prepares the typical colourful ornaments that are placed on the trucks.
| | |
| --- | --- |
| APN | NIKON CORPORATION NIKON D70 |
| Registred camera | NIKON CORPORATION NIKON D70 with NIKON AF 18-35mm f3.5-5.6 (Reflex camera) |
| Orignal filename | _dsc7490.jpg |
comments
11/06/2008
very nice documentary picture. Lights and colours are really well managed and the sharpness is really good. I like a lot that you have choice to put out of focus the front of the wood, giving a better focus on the carpenter. I like also your composition, strong, with this diagonal that goes straight to the man.

Good job,

Javier

11/06/2008
Another excellent, first class environmental portrait, Steve. Sure it may not be an extreme avant-garde statement ;o), but it is high quality work and good documentation, and I reazlly apreciate the creative touch in the foreground, the way you lead the eye from the blurry edge of the ronament to the man. Brilliant color too.

11/05/2008
Hi Steve, the blue is absolutely eye-catching
i like a lot the composition and the diagonal line here, it takes our eye right on the subject and to his hands at work
as usual beautiful light
ciao!
valeria