/photo view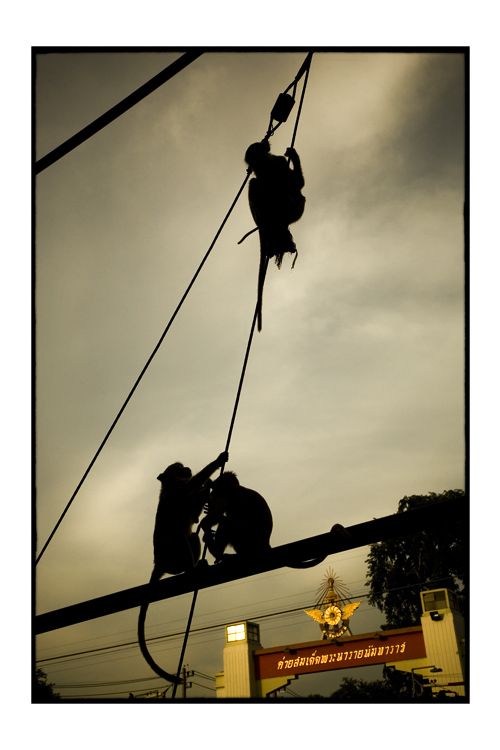 the hero
© Simon Kolton

(04-12-2007)

<

lopburi

<

Thailand

<

Asia

PHOTO DESCRIPTION

In community of monkeys, do they have hero .

| | |
| --- | --- |
| APN | Canon Canon EOS 5D |
| Registred camera | CANON Canon EOS 5D with CANON EF 24-105mm f/4L IS USM (Reflex camera) |
| Orignal filename | img_6532.jpg |
comments
06/29/2008
Oh, man. This is a fantastic one. (You can add it to your construction worker series as well!). It's all been said, but your powers of observation and imagination just come through here so sharply. And the contrast between the silhouetted monkeys busy in their work and the glowing arch (with its vague sense of being of the government or of a momument -- I don't know what it is), is just right. Outrageously good photo. -h.

02/20/2008
pas cool les singes à vouloir faire tomber leur copain... ca rappelle la politique! ;-) Autre version, ils tiennent la corde pour lui faciliter la grimpette... Va savoir charles! In any case, an excellent shot that fits well in the series
12/05/2007
Beautiful tones dear Simon. It's really incredible how you never have blown highlights in your photos (ok, that small light reflection on the top of the left pillar doesn't count...). Your photos are really lessons about exposure. Composition is cool here. The monkey trio forms a triangle and form the iron ropes in which they are hanging. You really have an incredible aesthetic eye. Very good.

12/05/2007
Ce projet est maginifque et originale dans son approche. Quelle idée formidable. Je reviens sur les autres photos. Merci.

12/04/2007
Quite a nice shot Simon,
the yellowish color cast is quite intriguing as is the composition. I like the glowing sign, and I like the monkey silhouettes. I suppose that you cant help to take photos of these guys, but did you start out doing a specific theme on them?
12/04/2007
Hello Khun Fly! Good weekend shooting?
Stunning shot - this one (which I do not remember from the Lotpburie series) knocked my socks off. detailas, everything is in the details.
1. Light reflected off the left portal
2. Golden hour tine all arond the gate
3. Trio of apes not just silhouetted beautifuly but "telling a story" - hoisting the LEADER up that rope...;o)
4. Brilliant pp rendering.
5. Very clever and expert composition
I don't mean to embarrass you but you are a master with the lens, Simon. No one can touch you in my book...

12/04/2007
Amazing shot, Simon, with that Thai sign in the back glowing in the sunset and the silhouetted monkeys playing in the front with those graphic wires. Funnily, it reminds me of some shots by Francis about Japanese construction workers in Tokyo, haha, perhaps you know what I mean. What I love here is this precise composition, the wires branching out like a fan for them to play with. What colours!!! Superb... wonder how you pp these shots that they turn out with such a similar embrace of the yellow cast...