/photo view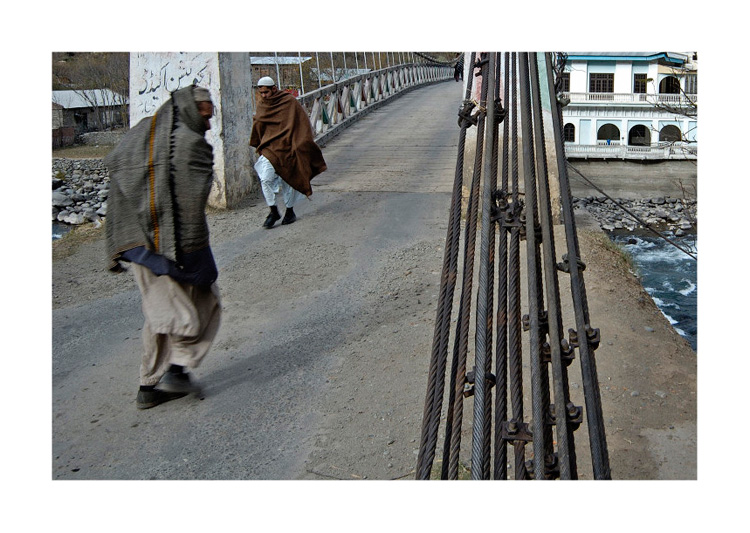 The crossing
© Steve Viscot

(03-02-2023)

<

Swat

<

Pakistan

<

Asia

PHOTO DESCRIPTION

Pedestrians crossing a bridge over the Swat River.
| | |
| --- | --- |
| APN | NIKON CORPORATION - NIKON D70 |
| Registred camera | NIKON CORPORATION NIKON D70 with NIKON AF 18-35mm f3.5-5.6 (Reflex camera) |
| EXIF information | f:16 - 1/60 - 200 ISO (no flash) |
| Orignal filename | dsc7313.jpg |
comments
10/19/2008
I really like the left side of this photo but, in my opinion, it's a shame that the rope wires are the only element in sharp focus. No matter, I believe that a square or 10x8 crop of the figures would make a truly great composition. I'd also be intrigued to know what the graffiti on the bridge says. Nice work. Paul.
10/18/2008
This is a strong composition, one that works very well in projecting the remoteness of the place. It works well for the strong lines that carry depth, and also for the mutual placement of the two figures and their body movement. The little piece of the river is brilliant here.

10/18/2008
Nice use of the bridge cables here to once again split the screen and delineate the scene. Serious PJ series here, I appreciate it very much...
10/17/2008
hello Steve,

I think it would be great in b&w ! Funny that they both make the same movement :)
greetings, inn