/photo view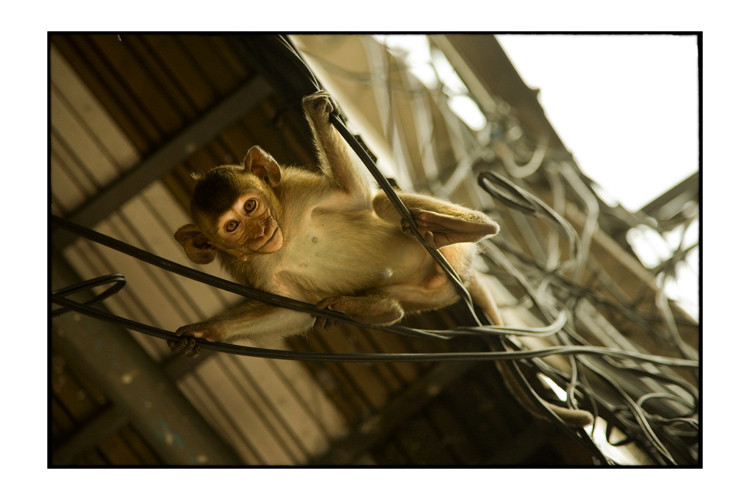 where are you
© Simon Kolton

(02-12-2007)

<

lopburi

<

Thailand

<

Asia

PHOTO DESCRIPTION

do you never had this feeling to be observed ;o)

| | |
| --- | --- |
| APN | Canon Canon EOS 5D |
| Registred camera | CANON Canon EOS 5D with CANON EF 24-105mm f/4L IS USM (Reflex camera) |
| Orignal filename | 6317.jpg |
comments
06/29/2008
What's interesting to me here, is how much he looks like a bat. It's BatMonkey! From different angles, I suppose, primates can show off their marsupial characteristics or their rodentic or even their pachydermic ones. Beautiful light, beautiful composition, incredible "connection" with the subject. Just a perfectly realized photograph. -h.

12/04/2007
Salut Simon
One of your simian exquisite shots, an immediate favourite, with that gentle curious humanoid face staring right into yours. The wires, the overall composition, the soft yellowish hues embracing the entire scene are such parts of this work that it leaves me pretty speechless. Bravo Fly...
12/03/2007
tiens j'en connais un qui aurait ralé sur le ciel cramé... mais moi, surement pas mon genre! j'adooooooore les ciels cramés;-) bon allez, balle au centre;-) cette photo est décidemment très belle et très drôle! il donne l'impression d'attendre le bon moment pour te faire une farce et te sauter sur le dos! quels yeux! comment ne pas succomber?... ;-) Into my Favorites!
12/03/2007
Very good Simon. Once again, you captured a great human expression from the eyes of that... monkey. Your color editing is so good. The way you embraced a limited range of hues is really amazing. It unites the picture in a so sensitive way. Very good indeed.

12/03/2007
Strange POV, the monkey is right on top of us, and Ive never encountered a monkey so close. I wonder which end of that 24-105 you were using, for our sake I hope its 105:) But I do like your approach to this series as far as the lens goes...no telephotos from you, which is standard fare for this sort of photography.
12/02/2007
Sawadee Simon,
" Flydragon and Batmonkey "could also be the title of this nice image,
I really like how he looks at you and how he wants to catch your Pailles d'or ;-)
good tones through all your serie.
Have a nice time.

Tom

12/02/2007
What strikes me here is the very human expression of this little fella, expressive eyes, with intelligent curiosity. Light on the monkey is excellent, but the quality of the creamy smooth bokeh is what really makes this for me.

12/02/2007
Simon, you really are just so good both in the photos you take and in how you process them. The capture of the monkey is excellent and even though you have that pure white triangle at the top right, it doesn't bother me. I like the warm tones too.
Not sure if it is relevant, but I absolutely hated the monkeys in Lopburi (and other places too), especially the one which stole my memory card. No better than rats as far as I am concerned.
12/02/2007
Finally I found you semble dire notre ami, un mix entre spider man et tarzan ici ;o). J'ai rarement vu des portraits d'animaux, les tiens sont non seulement reussis mais en plus tu leur donne du charisme, de la personalité et celle ci est particulierement geniale !
Au fait il a reussi a defaire les noueds ;o) ?

12/02/2007
Genial celui-la, Simon. J'aime comment, question tons et couleurs il est comme integre a son milieu, au fond. L'enchevetrement des lignes est super bien vu aussi. sacre expression...quelle gueule! Bon, quelle intelligence dans le regard. Bien vu;o) Jolie serie. Tu vois on parle beaucoup ces temps-ci de "narratif" de progression lineaire mais c'est oas toujours necessaire. Comme ici, tu joues du jazz, tu vois, c'est un MOOD, un mood "Bleu", voila. ENGLISH: Brilliant shot. I really like the tonal unity here, the way the monkey's colors blend in with the rest of the frame. The crisscrossing of the wires is choice! What an expression, what intelligence in his eyes! Well seen ;o) ps There is much talk lately about "narrative", the importance of a linear progression but I don't think it's always necessary, as here, where you are playing a jazz tune, a MOOD, a "Blue" mood."