/photo view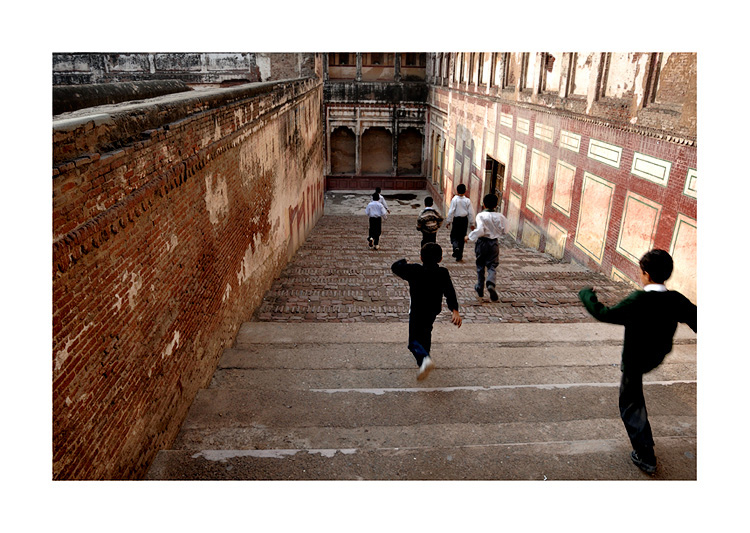 Schooltrip
© Steve Viscot

(03-02-2023)

<

Lahore

<

Pakistan

<

Asia

PHOTO DESCRIPTION

Laughing and shouting and running down this stairway in Lahore fort.
| | |
| --- | --- |
| APN | NIKON CORPORATION - NIKON D70 |
| Registred camera | NIKON CORPORATION NIKON D70 with NIKON AF 18-35mm f3.5-5.6 (Reflex camera) |
| EXIF information | f:13 - 5/300 - 0 ISO (no flash) |
| Orignal filename | _dsc6573c.jpg |
comments
10/16/2008
hello Steve,
Also my first thought was : HCB ! and then i read the comments :). such a great shot, the position of the boys, the dynamism , the obligation to follow the boys. I also think that b&w would be awesome !
greetings, inn
10/15/2008
I think Francis is spot on with his comment, Steve. I can't see that the colour adds to the photograph (the acid test in my book for colour photography) so I too would love to see it in monochrome. Other than that, a very nice image, indeed in the vein of HCB.
10/15/2008
Another very cool, savvy shot, Steve, with more than a hint of Cartier-Bresson in the disposition of the boys (Luko, are you reading this?) Really a very nice shot, my only suggestion would be - do it in BW, it's screaming for monochrome treatment, honest. The graphism would emerge even stronger.

10/15/2008
Jive,
This is a wonderful shot of the kids marching down this historic old fort in a winter afternoon. The atmosphere is heavy with history but also of youthful exuberance--always a meritorious combination. Excellent depth to the composition and good timing. Nice color.
A