/photo view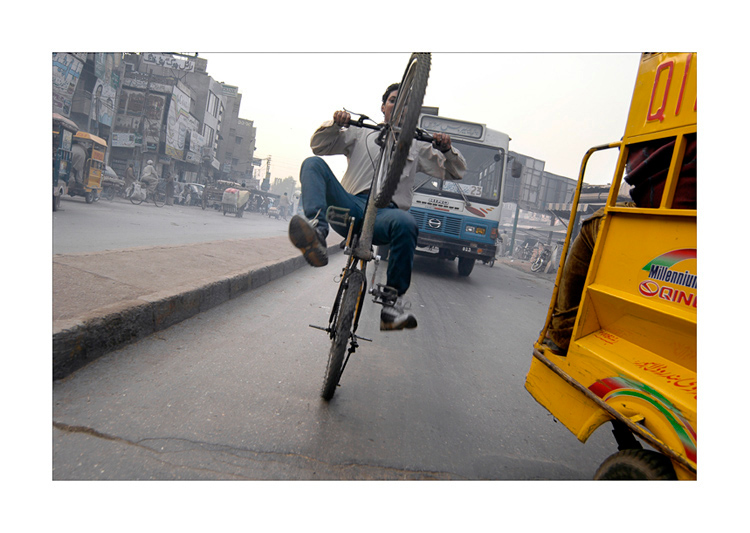 Showing off
© Steve Viscot

(03-02-2023)

<

Lahore

<

Pakistan

<

Asia

PHOTO DESCRIPTION

This cyclist saw me sitting in the back of a ricksaw and desided to play stuntman
Reloaded into sRGB
| | |
| --- | --- |
| APN | NIKON - D200 |
| Registred camera | NIKON D200 with NIKON AF 18-35mm f3.5-5.6 (Reflex camera) |
| EXIF information | f:5 - 1/200 - 200 ISO (no flash) |
| Orignal filename | reupload__dsc6743.jpg |
comments
12/19/2008
One of those dream photo opportunities where you just get plain lucky. Great colour and angle to have him so front on.

I had a similar experience in Glasgow, except the man hit the kerb and faceplanted the concrete. Unfortunately my camera didn't capture any of it.
10/16/2008
hello Steve,

Haha ! lucky you :)
very nice compo! very sharp and perfectly balanced.
greetings, inn
10/11/2008
Clever shot, Steve, for all the reasons WIll pointed out. This is also fine color photography, the bright YELLOW of the bus puncturing the polluted gloom all around...
10/11/2008
I like how the 'stuntman' cuts the frame into two, but am maybe thinking that it would have been better to have either cropped the image down to the other tyer , or included the top part of the bike (which might not have been possible. Nice inclusion of the yellow bus though.