/photo view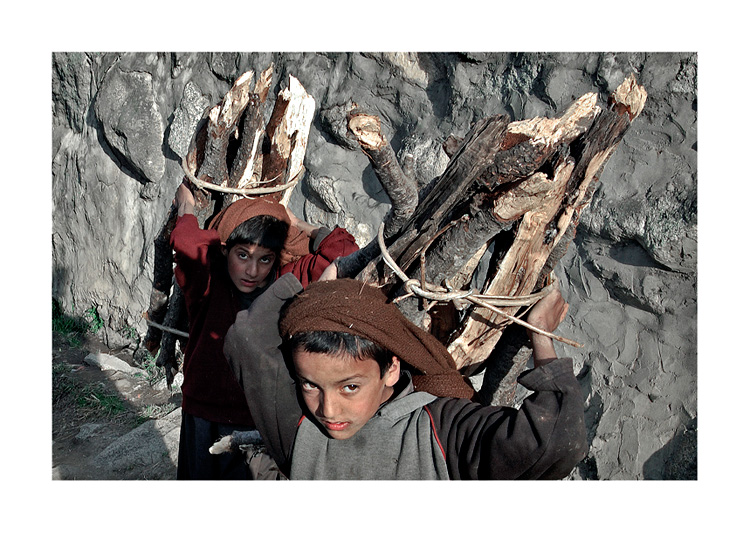 Carrying firewood
© Steve Viscot

(03-02-2023)

<

Swat

<

Pakistan

<

Asia

PHOTO DESCRIPTION

We encountered these young boys on a path leading to the village of Kalam. They still had a long way to go with their load
| | |
| --- | --- |
| APN | NIKON CORPORATION - NIKON D70 |
| Registred camera | NIKON CORPORATION NIKON D70 with NIKON AF 18-35mm f3.5-5.6 (Reflex camera) |
| EXIF information | f:16 - 1/125 - 200 ISO (no flash) |
| Orignal filename | _dsc7263c.jpg |
comments
10/16/2008
hello Steve,
It's like these kids just came out of the book of Khaled Hosseini ... great portrait of this nice boys, the hardworking , almost-adult-kids , the penetrating look, the grayish colours ... you made a poetic image of this scene, although it is a hard world. congrats !
greetings, inn
10/09/2008
A great composition, and a very impresive look of these boys. You have catch a reat moment. Lights and sharpnes is really nice.
Hasta la vista,
Javier
10/07/2008
The textures, the rocks, the wood, the heavy load the boys are carrying... a wonderful shot, Steve--the pov is excellent to emphasize the weight of their load. And again, the colours are superb... F16 really does bring all these to clear focus--wonder how they could keep so motionless with all that!
A beautiful work...
sasa
10/07/2008
Strange, intriguing POV and composition, Steve. They seem to be part of a tableau or a sculpture. As though they were emerging from the rock. Interesting. You sure do get around . . . Best, -h.