/photo view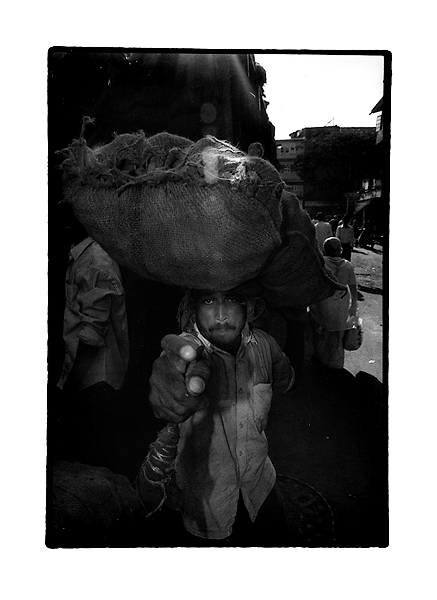 Worker with load I
© Steve Viscot

(03-10-2008)

<

Mumbai (Bombay)

<

India

<

Asia

PHOTO DESCRIPTION

These men were loading a truck with those bags.
| | |
| --- | --- |
| APN | NIKON - F3 |
| Registred camera | NIKON F3 (Reflex camera) |
| Orignal filename | img281.jpg |
comments
10/07/2008
I have completely no idea how come his face got lit even though he stays under that big bag. Was it sun or was it you?

I simply love this picture. And yes... people don't understand how wonderful feeling it is to lock yourself up in a darkroom and play with developing and printing, even though it seems to be art-for-arts-sake in the digital era.

Long live the film, my friend!

Best,

Pawel

10/05/2008
Steve,
I am thrilled by your close approach to this subject. Clearly a strong presence within the frame, the composition is still quite unusual. I am also intrigued by his interaction with you, which remains ambiguous, thus adding charm to the photo. I can see that the exposure was not optimum but your dodging has done a good job revealing the man, the light on his along the line of the lens flare makes it appear quite natural. A strong photo.
Animesh

10/04/2008
Terrific shot with an almost 3-D feel with that finger pointing out at your lens. NOTE: On the project idea, Steve, I'm not so sure - it's a a handy way to throw in disparate shots (exactly the kind of cheeky thing I would do...) but just saying "proofs" doesn't really constitute a thematic...or does it?