/photo view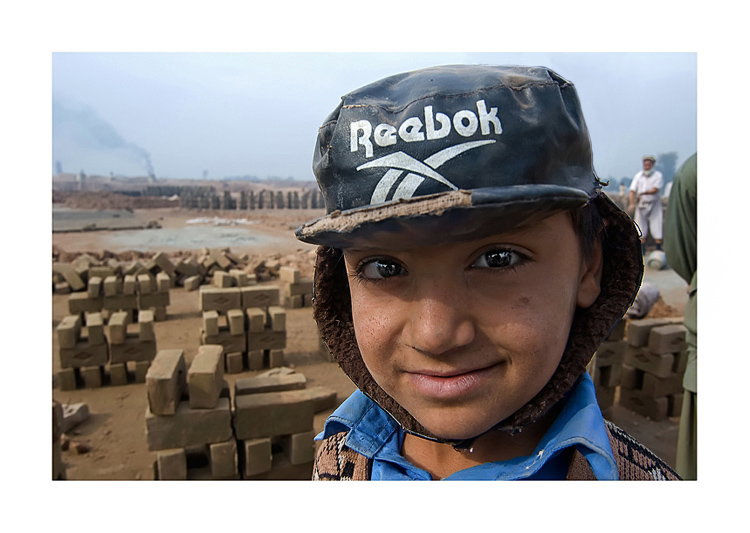 Portrait of a child labourer
© Steve Viscot

(03-02-2023)

<

Federally Administered Tribal Areas

<

Pakistan

<

Asia

PHOTO DESCRIPTION

Many Afghan refugees in Pakistan live in camps around the city of Peshawar, close to the border. These people are often employed in brick factories where they can earn some money. Unfortunately a lot of child labour is used in these places.

| | |
| --- | --- |
| APN | NIKON - D70 |
| Registred camera | NIKON D70 with NIKON AF 18-35mm f3.5-5.6 (Reflex camera) |
| EXIF information | f:9 - 1/125 - 200 ISO (no flash) |
| Orignal filename | reupload_dsc7555a.jpg |
comments
09/27/2008
Like an anti-Reebok ad. I like that aspect of it Steve. As well as your connection with the subject. But I think you may have got almost too close with the wide end of your zoom (As Stig points out). (D70 with a kit lens, huh? Is that what you usually use?) I like to work on eyes in portraits, but I do think you went too far. Some work is good, but this goes into a kind of science fiction. In another context I think it would be great, but here it seems inappropriate to the mission. But tone down the eye job and I think it's a good addition to your fascinating series. (Are you there right now? Posting on the fly?) Best, -h.
09/24/2008
Hi Steve! I catch two photos and I find the job carried out very interesting. I fodder that everything depends on is watching that it and that is what tries to find in her. first I liked much, and this the equal encounter of interesting beyond the technique that has been used. perhaps this is a little more natural but what to fascinate to me it is the boy in its daily surroundings. You can serve hamburgers to me as the McDonalds if well they are done and they reflect what we eat on a daily basis. My respect to any opinion of holikers, that for that we are, to yet opinions abaut our works. Jordi
09/24/2008
I didn't really catch the previous post concerning the 'over processsed' eyes, but its an interestin debate that you and Luko bought up! I can't quite make my mind up on this photo. I like the boys expression and the sharpness, and colour of it, but I find that it's too close up. Maybe a bit wider, get some of his work clothes in, maybe some more of the bricks or something.
09/23/2008
ok, Steve, lemme be frank with you : from the thumbnail I thought it was a good photo but when i opened I stated there was something fishy going on. I simply can't buy the overprocessing on his eyes, there 's too much overlay, sorry you can't do to me the kitty eyes trick to an ole guy like me, been there and seen them all.

Good photos don't lie and I feel you're trying to cheat me in a way, i know a photographer who's doing big business with a single trick, it happens I learned him a thing or two at his beginnings. I liked his way at the start but I now feel he has gone on the dark commercial side. I can see the strings behind the puppetry show and that's no good. Your photo walks on his trail.

So just leave it the way it is, don't try to go the superficial way
09/22/2008
hello Steve,

No comments yet on this photo ????
I find this a very strong image, the look of the boy ,fascinating how you captured it. Not a common place to portrait ! How come that you make photos there ?
greetings, inn