/photo view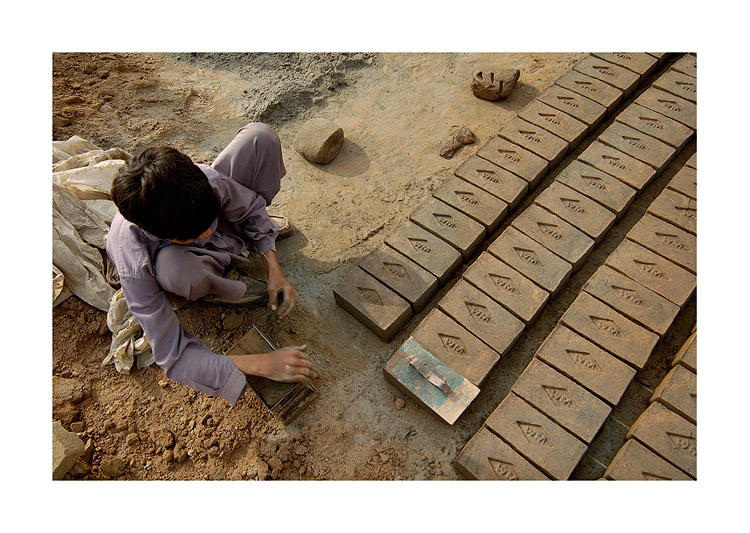 Producing bricks
© Steve Viscot

(03-02-2023)

<

Peshawar

<

Pakistan

<

Asia

PHOTO DESCRIPTION

Many Afghan refugees in Pakistan live in camps around the city of Peshawar, close to the border. These people are often employed in brick factories where they can earn some money. Unfortunately a lot of child labour is used in these places.

Here we have a young boy making bricks that will later be baked
| | |
| --- | --- |
| APN | NIKON CORPORATION - NIKON D70 |
| Registred camera | NIKON CORPORATION NIKON D70 with NIKON AF 18-35mm f3.5-5.6 (Reflex camera) |
| EXIF information | f:8 - 8/1000 - 200 ISO (no flash) |
| Orignal filename | _dsc7551.jpg |
comments
09/24/2008
Alright Steve, I'm expecting another grand project here, and its great that you got access to this site. Don't dissapoint!
09/21/2008
As usual a magnificent quality of image...
I like here your game with this diagonal and the very sweet colors which compose it.
See you...

09/20/2008
I like this picture and what this picture say. i do like the color. But i miss to see a bit more his face, this kid the way you show him is to anonymous for me here. I would like see his face.
••fly••

09/20/2008
This is VERY good, Steve. As attractive as the last project was, I like the simplicity and focus here. I have a feeling this kind of reportage really suits you and I look forward to more...