/photo view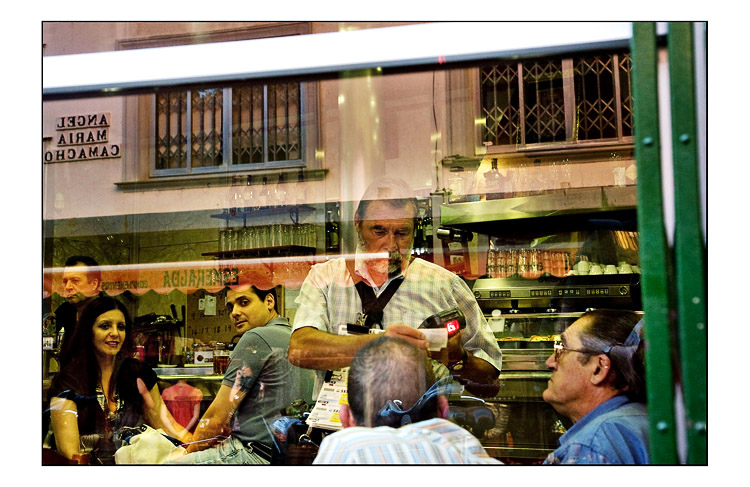 bodega del Alfalfa
© Luko G-R

(01-08-2008)

<

Seville

<

Spain

<

Europe

PHOTO DESCRIPTION

Plaza de Alfalfa in Sevilla, best Sangria ever but watch out for the bird shit coming down the huge trees.

La ONCE lottery sales are hot in this bodega.
| | |
| --- | --- |
| APN | Canon Canon EOS 5D |
| Registred camera | CANON Canon EOS 5D with CANON EF 24-105mm f/4L IS USM (Reflex camera) |
| EXIF information | f:6,3 - 1/80 - 800 ISO (no flash) |
| Orignal filename | tapeo alfalfa.jpg |
comments
09/26/2008
hello Luko,

Awesome shot, a treasure to discover. i'll take my cup of coffee , turn off my screensaver and take the time to enjoy this shot !
... what i like especially is the lady in red, with her arms on her back and the lady next to her thinking ... that corner of the photo is the best in my opinion, the richest part, although the rest is also rich of course. The eyecontact with the man is strong. Psychedelic piece of art ! in my favs of course, where else ?
greetings, inn
09/19/2008
Que de visages et détails a regarder dans cette photo. ce dernier visage sur la gauche fait la photo pour moi. Une autre superbe photo dans ce projet, un plaisir pour les yeux.
le bonjour à Angel Maria Camacho...
••fly••

09/19/2008
Le choix de cette photo pour le projet me parait judicieux. Elle respire la vie de quartier, les tapas, la sangria, les jeux de hasard (très clatin finalement). J'aime beaucoup le rendu constant dans l'ensemble des photos non seulement dans le contenu mais aussi dans le triatement des photos: il y a de chaleur, de l'humanité dans le traitement de sujets ...

Merci du partage. Prêt pour le 5D II ?

09/19/2008
Detail, detail. An outstanding part of this series.

09/19/2008
Faces...that's all you needed and it's so well acheived
What's great, GREAT...is that tiny face hidden in the young mans arm. God, what detail....
I think this sums up as my favorite work from you on PH. I know, you haven't shown much...but, you know...
09/19/2008
As reflections go, this one is very rich, and it's not a gratuitous reflection shot like so many of mine have been ;o) This one is all about Sevilla, the architecture, the Mauresque feel, the vivacity and curiosity of the people...