/photo view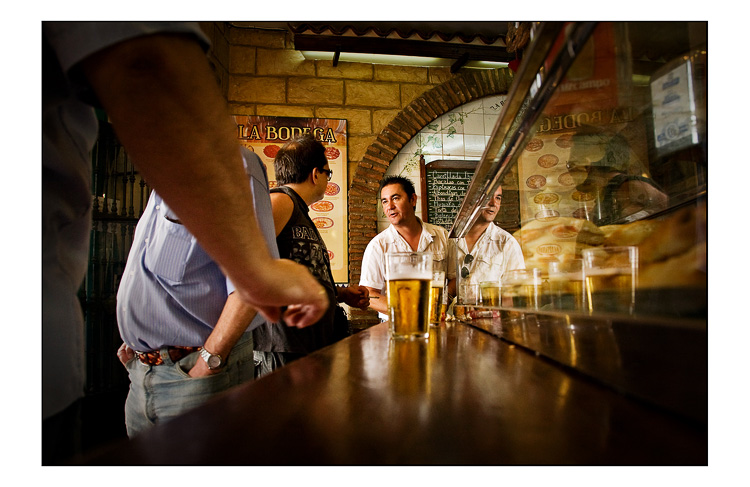 The torture never stops
© Luko G-R

(09-08-2008)

<

Seville

<

Spain

<

Europe

PHOTO DESCRIPTION

You can't stop the Tapeo. 

Tapeo is stronger than anyone.

drink that glass of beer, eat that jamon and manchego sandwich. Shut up now.
| | |
| --- | --- |
| APN | Canon Canon EOS 5D |
| Registred camera | CANON Canon EOS 5D with CANON EF 17-40mm f/4L USM (Reflex camera) |
| EXIF information | f:6,3 - 1/80 - 800 ISO (no flash) |
| Orignal filename | bodega del alfalfa.jpg |
comments
11/16/2008
L'Espagne çà te gagne, fais gaffe Luko. Encore une image où la chaleur s'en échappe. On a envie d'être au contoire, de bailler et bon coup et puis de commender un café. Por favor un gran cafe solo, por nono :)
gracias. nono
09/19/2008
Le point du vue d'un verre de bière , simple et bien fait.
••fly••
09/19/2008
I agree with Chris about the apparent simplicity of these shots. That is precisely why they work so well. A way of looking simply.

09/19/2008
Yeah, I'm behind this one as well.
I'll say this; and I mean it as a compliment, this quite an accessible series...there aren't pretentions about style or content...just ordinary scenes shown from hidden corners. Excellent.
The hidden face behind that arm...
man.
Good stuff.
09/19/2008
Spectacular barroom shot. There are some pretty daring POVs in this series, really working the angles. This one perhaps the most cinematic of all. A fav. ps. Brilliant title by the way (says it all)