/photo view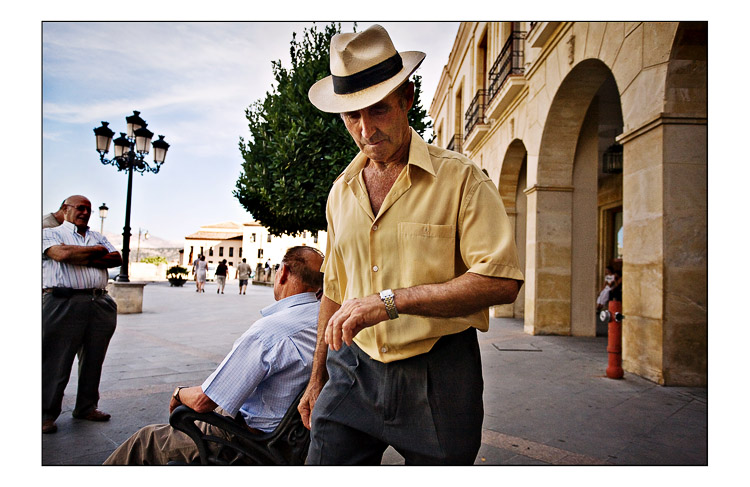 La hora de tapear
© Luko G-R

(07-08-2008)

<

Ronda

<

Spain

<

Europe

PHOTO DESCRIPTION

A clock strikes the end of the Paseo. There are certain things sacred in Ronda, like for instance time for the first glass of Manzanilla before starting the Tapeo.

 
| | |
| --- | --- |
| APN | CANON - Canon EOS 5D |
| Registred camera | CANON Canon EOS 5D with CANON EF 24-105mm f/4L IS USM (Reflex camera) |
| EXIF information | f:4 - 1/6400 - 640 ISO (no flash) |
| Orignal filename | la hora de tapear.jpg |
comments
11/16/2008
Ba il est presque couleur pastis lui. Mouarf, qu'il fait chaud dans cette photo ! ... L'instant est là, le casting également. Bravo Luko, bo projet ! L'Espagne t'a plutôt réussie je trouve, faudrait pet' que t'y retourne :) ... T'en dis quoi ? :)
En tout cas Re bravo. Toujours très juste.
nono
10/19/2008
Hi Luko, it is always difficult for me to comment wonderful images like this one..
i love the moment captured, just an instant.....and the time is stopped..
i love also the scene on the left side between the two men..
great as usual
a lesson of composition
ciao!
Valeria

i fall in love with this type of images....after colours and graphic style.... :))) but i have to change many things in my vision of the world..... :)))

09/26/2008
hello Luko,
This is almost hyperrealistic . very strong image. the man gazing at his watch is really good, i'm happy he did that movement when you clicked.
greetings, inn
09/19/2008
Luko, simply outstanding!
09/19/2008
C'est cool de voir un nouveau projet Luko. et cette destination. je vais commencer par celle ci, peu être ma préf. j'aime ce cadrage et cette homme centré, il va srtir de l'écran ou du cadre. J'aime aussi cette division e l'image en deux parties couleurs, bleu et jaune pastel. Le top aurait peu être été d'avoir un personnage qui marce le long des arcades. Une image simple et belle. Ce 24-105 même si difficile en faible lumière est vraiment mon favori.
••fly••

09/19/2008
I can certainly agree with Evren at least so far as your PH posts are concerned. Spain appears to have released your creative energy in a torrent. Here again I see the same pregnant moment when so many things seem to happen in mid stride, like the pendulum poised at the end of its arc to begin its swing again.

09/19/2008
i think its one of your best compo.

09/19/2008
J'aime la simplicité de celle-ci, comme une belle après midi qui se termine... Il est l'heure de rentrer et de lacher mes potes, mon chapeau bien vissé... J'aime l'attitude du bonhomme les bras croisés, j'aime enfin la belle texture de cette photo et ses chaudes couleurs.
09/19/2008
Indeed I'm jealous here...as I sit with a pounding headache behind my left eye, wondering why my order from B&H photo hasn't shipped yet (guess no printing this weekend). I think about the long hours I work every day and the fact that I've taken maybe one picture in two weeks...and, no wrist watch...what use would that be to me?
I want to wear a fedora and have a hearty laugh like the man on the left. It's a great shot, good combination of leisure and a need to get up and go...
09/19/2008
Some things are worth waiting for... ;o) Superb timing and management of the background. Everything in the frame is how it should be. I would be over the moon if hat shot were mine ;o)