/photo view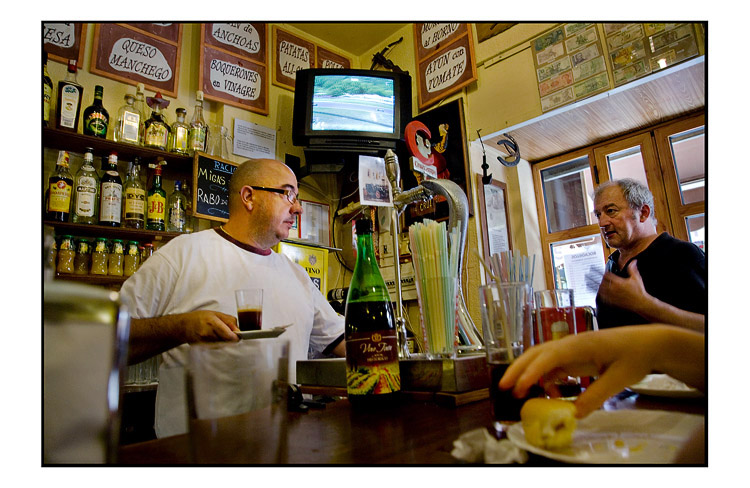 Antonio's bodega
© Luko G-R

(03-08-2008)

<

Cordoba

<

Spain

<

Europe

PHOTO DESCRIPTION

Antonio has been reading Holà gossip paper and comments Bradelina's new moves.

Meanwhile no anchovy bocadillo piece is lost.
| | |
| --- | --- |
| APN | Canon Canon EOS 5D |
| Registred camera | CANON Canon EOS 5D with CANON EF 17-40mm f/4L USM (Reflex camera) |
| EXIF information | f:5,6 - 1/30 - 1000 ISO (no flash) |
| Orignal filename | bodega cordoba.jpg |
comments
10/20/2008
hi Luko, some exquisite work here. fine juxtaposition of the subjects, and I especially like that hand entering the frame, and also the slight motion blur in the background, adding a bit of dynamics. i'm also surprised at the details, especially the clarity of the TV screen showing formula one!
09/26/2008
hello Luko again ,
well how big can my vocabulary be in english .... again a terrific shot. the layers work very well, you take us inside the image , like we are sitting also on the bar. nice colours and mood.
greetings, inn
09/19/2008
One of those shots that manages to capture moments that are happening right now across the frame. Everyone is suspended in mid air, as it were. A wave of a hand and they will finish whatever they are doing. Perfect timing and very, very mature.

09/19/2008
Ah, that hand reaching for the last morsel...it is my favorite part. More telling for me than the eyes of Antonio...or even the inquiring look of the bar keep.
Somehow I wish there was something a little more apparent in the TV screen...but that is just a nagging pick...
09/19/2008
Again an extremely well set up shot. A great cafe shot dominated by the centrally positioned TV, which I suppose sometimes shows the corrida, ratching up the temperature in the room...