/photo view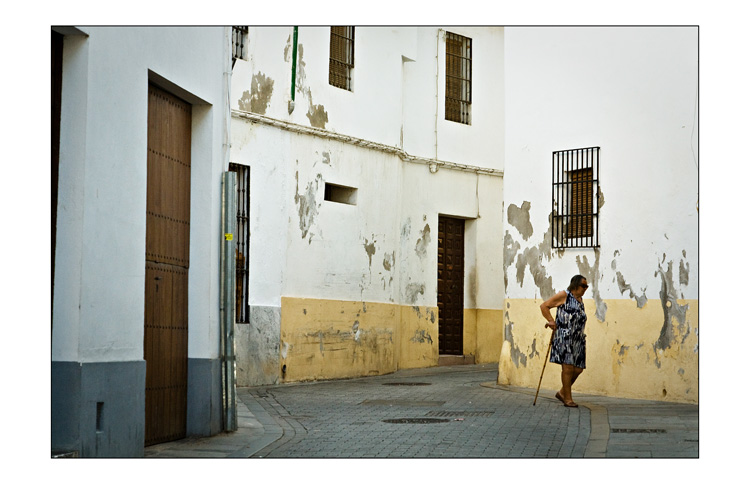 Paseo Cordobes
© Luko G-R

(03-08-2008)

<

Cordoba

<

Spain

<

Europe

PHOTO DESCRIPTION

Vintage paseo in Cordoba old jewish district. She might not be so confident in her own attitude but she's still strolling the streets.

I've hardly seen such heat than in Cordoba : 40 every day starting from 11 AM. 
| | |
| --- | --- |
| APN | Canon Canon EOS 400D DIGITAL |
| Registred camera | CANON Canon EOS 400D DIGITAL with CANON EF 24-105mm f/4L IS USM (Reflex camera) |
| EXIF information | f:7,1 - 1/160 - 400 ISO (no flash) |
| Orignal filename | paseo cordobeo .jpg |
comments
09/27/2008
She is tough going out in that heat...but then the must be used to it. Great minimalistic shot in its apparent simplicity. Love that empty curvy street, but for the woman, all that white and the fine washed-out bits of colors, the shut doors where one can imagine some coolness and shade.
09/19/2008
Les fenêtres, les portes, leur nombre me rappelle une photo du fameux monsieur mais prise à Madrid.

09/19/2008
goes well with the story.. minimal but effective.
09/19/2008
Before going to bed I am having a last fling at developing two more reels--they are in the wash now--who knew a few stolen moments at PH would bring such a pleasure! What a marvelous opening to a terrific series.
Lines, light, moment and, yes, color too, are in confluence to create an unforgettable Spanish moment. Brilliant.

09/19/2008
Great opener...I thought the same as Francis here, except, of course, the color. That said, there is almost an illusion effect to the white walls framing this strolling beauty...save the road which courses into the frame with jagged turns.
Quite an attractive photograph.
09/19/2008
This a priori unassuming pic is a definite nod to HCB (pre-war Spanish pics, Mexico, etc.) I would not be surprised if t was your own personal favorite of this set...