/photo view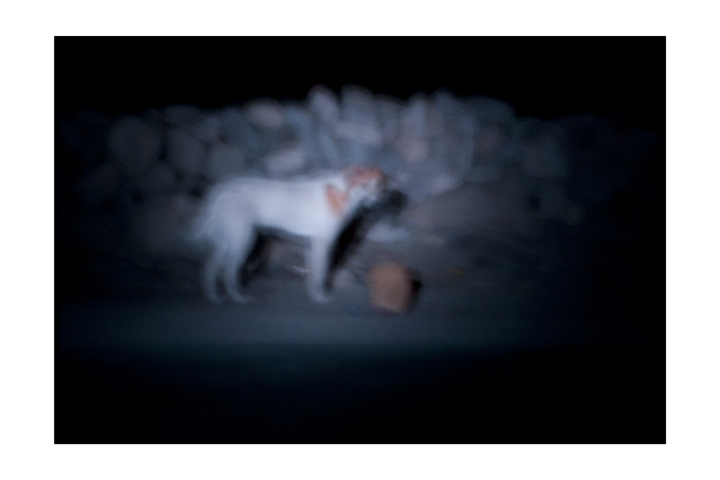 pass
© Arnaud DE

(03-08-2008)

<

Shey

<

India

<

Asia

PHOTO DESCRIPTION

Photograph taken in Ladakh beetwen Shey and Thiksey.
| | |
| --- | --- |
| APN | CANON - Canon EOS 20D |
| Registred camera | CANON Canon EOS 20D with CANON EF 24-70mm f/2.8L USM (Reflex camera) |
| EXIF information | f:4.5 - 8 - 1600 ISO (no flash) |
| Orignal filename | vi1.jpg |
comments
09/30/2008
Chacal ou chien...? mais la ce qui compte le plus c'est le côté magique, la surprise, (de part et d'autre peut-être ?:), ce flou qui donne un côté onirique très marqué. Les fantômes nous voient-ils comme cela ? :). Très belles tonalités bleues/vertes à nouveau. Je me demande ce qui va suivre...
09/16/2008
Well I must admit that I don't know what to think of this project. I'm gonna have to see some more photos before I make a decision, but I do like how you're making us guess as to what this could be, and what's gonna happen after this.
09/15/2008
hello Arnaud,

I appreciate a lot the originality of this photo . very special and beautiful. It has a "polaroid-feeling". Superb ! Curious to see the next uploads !
greetings, inn
09/15/2008
Fantomatique celle-ci... On t'imagine perdu dans ces montagnes glaciales, fatigué par de longues heures de marche seulement éclairé d'un faible halo de lumière provenant d'une frontale déclinante.
Alternativement, la lampe s'allume et s'éteint et tu éprouves des difficultés à continuer... s'allume et s'éteint... S'allume et s'éteint.... Horreur ! A présent que tu te trouves dans l'obscurité il te semble avoir vu quelques choses bouger dans le dernier halo de lumière... Un loup ? Un chien ? Ne pas bouger... Ne pas bouger... Le silence de la nuit seulement troublé par des claquements de dents d'un jeune français effrayé...(;

09/14/2008
In one of the forum topics we're having a longish discussion about Art in photography. I suggested that photo had to have an essence ie. a particular photographic nature that would distinguish it from a painting for instance.
Now you seem to be shooting with a Xray machine, maybe you're closer to Art than anyone of us... I remember that shot of a radioactive cat in the dark night (Delahaie?).

PS : wasn't the xray machine too heavy to carry to Ladakh?
09/14/2008
Salut Arnaud, une photo bien créative, à moitié rêve à moitié réalité... Je suis allé au Ladakh il y a 8 ans, ça a bien dû changer... ça vaut encore la peine ?


09/14/2008
Hell ohhh nono hehe what a cool shot, a bit strange, but funny. dog ? jackal ? ;o)
i see that you also meet some dog during your walk.
happy to see you posting ,o)
••fly••


PS Ladakh c'est pas la ou les gens se collent des graines de sésame sur le visage ;))
09/14/2008
?
Frightening. I'm lost to this shot Arnaud, just incredible. The subtle shades, the smooth textures...the bag on the ground.
man.