/photo view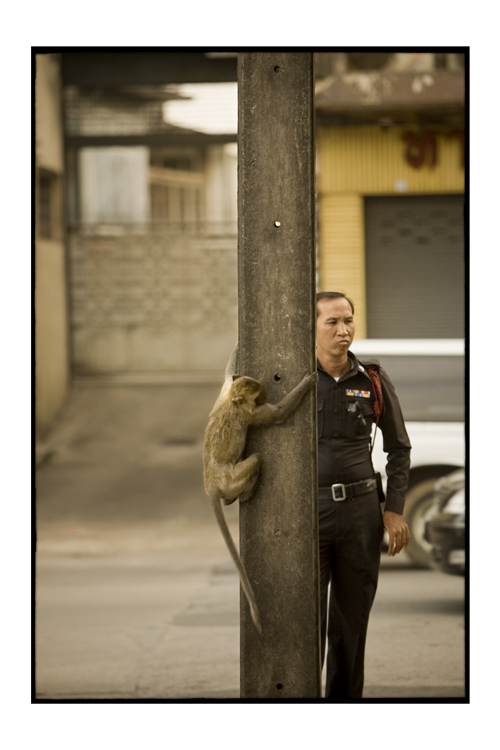 catch me if you can
© Simon Kolton

(29-11-2007)

<

lopburi

<

Thailand

<

Asia

PHOTO DESCRIPTION

no need to tell you, that monkeys are naughty ,o)

| | |
| --- | --- |
| APN | Canon Canon EOS 5D |
| Registred camera | CANON Canon EOS 5D with CANON EF 70-200mm f/2.8L IS USM (Reflex camera) |
| Orignal filename | mg_6433.jpg |
comments
06/29/2008
Hilarious. "I know he's around here somewhere. But where?" Just like in a cheezy movie.
-h.

12/03/2007
Hi Simon,

this is a very coherent shot inside the theme you have chosen! But alike Yan ,I am not totally convinced by the crop in this one, as opposed to the other shots shown so far! There is too much free space in the left hand side and the pole should be better placed more to the left... Otherwise, I like the humorous approach where this monkey seems to be hiding from the cop!
11/30/2007
:-)))) Here squirrels do the same. But monkeys, Simon?! And the policeman behind is totally unaware of the plot. Haha! Wonderful little shot, and while your framing might be a bit different, who on earth could sit down and compose at such a moment? Not me. I couldn't even shoot the monkey, let alone the two of them together! Amicalement,
sasa
11/29/2007
Ah c'est plutot fameux ca, Simon. Ya d'abord ces tons bruns partout dans le cadre. Et puis faut le dire, l'expression du cop, ben, ca se rapprecherait de "l'autre" o) EN plus on dirait qu'ils dansent... ca fait un couple singulier, fallait avoir l'oeil... Bokeh dose et cremeux a souhait, c'est tres reussi. -F
11/29/2007
Coucou Simon,
elle est tres etrange cette image, on dirait que tout ce qui vient de la droite ne va pas forcement resortir a gauche, la faible PDC fait resortire le cote humain par rapport a l'arriere plan betonneux, bruyant et froid !
En fait j'aime bien, y a je ne sais pas quoi ici, la partie de cache cache entre le policier et le singe...c'est ca !
Luan

11/29/2007
Salut Simon, dans l'idée j'adhère à fond avec ce flic qui semble perdu là au milieu, par contre je ne sais pas trop quoi penser de cette partie gauche qui me semble un peu en déséquilibre...