/photo view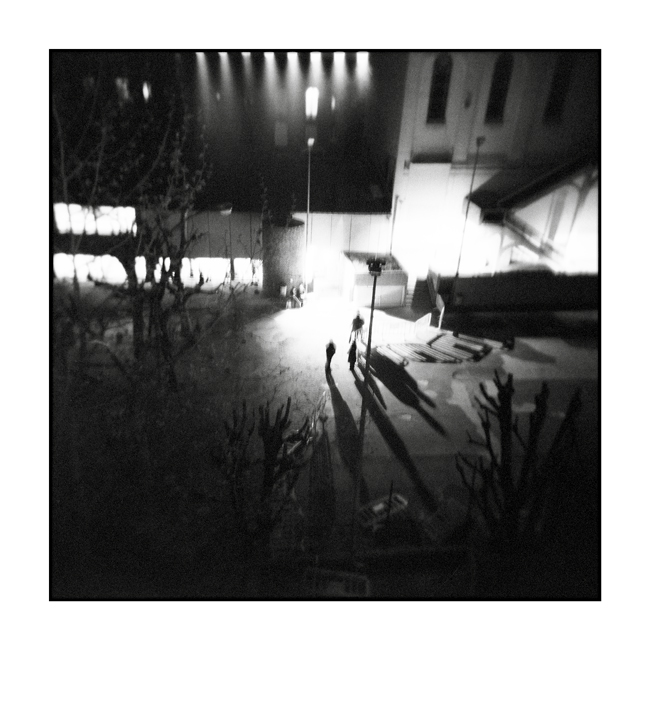 fake plastic trees
© Arnaud DE

(05-06-2008)

<

Paris

<

France

<

Europe

PHOTO DESCRIPTION

Confused wake up, trembling dreams, the reality like theatre
| | |
| --- | --- |
| APN | HOLGA - 120G |
| Registred camera | HOLGA 120G (Reflex camera) |
| EXIF information | f:8 - 2 - 1600 ISO (no flash) |
| Orignal filename | pa3.jpg |
comments
12/20/2008
'lo Nono. C'est marrant à quel point nos ombres sont souvent plus grandes que nous-mêmes. Au sens propre comme au figuré. Autant les grands truands que les petits dealers de quartier, y inclus les criminels au col blanc et tous les autres qui s'évertuent à faire peur au monde, sont dans le fond de petites gens qui font beaucoup de dégâts, mais c'est leur ombre, seule, qui nous fait peur et nous tient à l'écart. Va savoir, les trois gars là en bas sont de gentils grands-pères ayant fini leur partie de pétanque... C'est une scène fantasmagorique et je ne sais pas si je suis plus apeuré par les hommes, par les ombres, ou par les branches dégarnies des arbres.

07/06/2008
Encore un cliché particulier, étrange...
Rencontre aveuglante et ombres démesurées, en effet la scène est foutrement photogénique. J'aime beaucoup.

07/02/2008
Il y a quelque chose de très " mirador " dans cette photo.
une image étrange et inquiétante. les ombres accentuent cette ambience.
belle image Arnaud.
••fly••

07/01/2008
This shot has a bit security camera point of view and quality. It's like stills of some criminal activety. we are watching some crime program on tv and the reporter says 'here look at this, here's your proof, Barry B. ( never trust people with a surname of 1 letter ;o) ) is a gangster!!! I never see anything particular in those security movies but they always look kinda interesting, so does this shot...

Jorrit
07/01/2008
Yes! As a day dreaming or a wake up insight the nightmare. A half of mysterious, a half of scary atmosphere. Nice work in composition with these long shadows, and all these lines that goes straight to vertical.
The grain of this picture as your B&W procesing is really well done.

hasta la vista,

Javier
07/01/2008
hello Arnaud,
A polaroid-look-like image, very special and unique. the b&w is very beautiful. also the blur is so beautiful. you created a special atmosphere here. bravo ! greetings, inn
07/01/2008
As if light were striking in the middle, bursting forth towards the vignetted black corners of the night, casting long shadows inthe yard... beautiful, haunting shot Nono with a great addition of parallel lights oozing down on the top into the dark.
tc,
sasa
07/01/2008
A striking photograph in every way. The square format presents compositional elements that are quite different from the rectangular one, so here what works is hard to grasp for me because I am so influenced by the rectrangular proportions. However it works, it does for me. Bravo!

07/01/2008
Oh, there is a center of interest for me...those three characters. There lonely plight walking into this desolate world. What awaits their curious selves...? Who knows, but the shot is trembling with anxiety and apprehension. The high contrast tones and blatant geometry only add to this surreal world.
Another gen Nono...superb.
07/01/2008
There is a way to read this, Nono - and that is to look for spokes radiating out from the edge to the center of the frame (including the trees). Conversely the shadows of the three figures in the center are radiating outqards in the oposite direction, like the hands of a clock... A disturbing shot. Brave too with no real center of interest save for tiny figures.