/photo view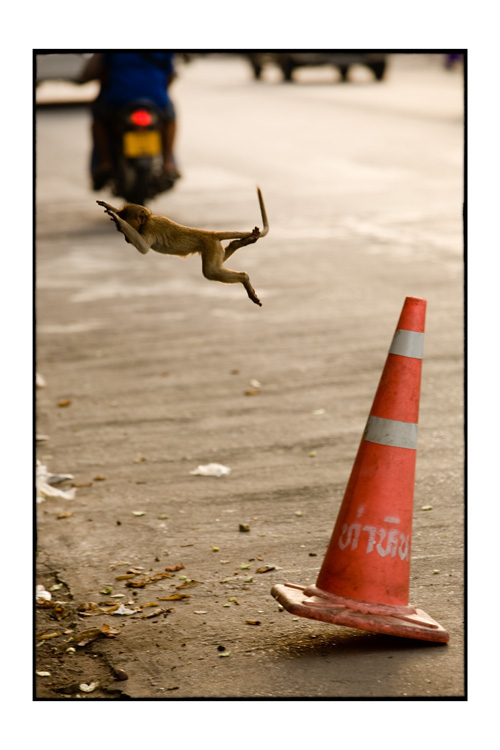 Ayyyaaaaaaa
© Simon Kolton

(29-06-2008)

<

lopburi

<

Thailand

<

Asia

PHOTO DESCRIPTION

i wanted to upload this last picture, to close this project about monkeys and Lopburi.
I was fortunate to be able to be there at the right time.

| | |
| --- | --- |
| APN | Canon Canon EOS 5D |
| Registred camera | CANON Canon EOS 5D with CANON EF 70-200mm f/2.8L IS USM (Reflex camera) |
| Orignal filename | img_6506.jpg |
comments
08/21/2009
This one I already commented before leaving PH, but I insist on doing it again. I'm just in love with it.

No more needs to be said.

07/22/2008
Hi Simon, what a wonderful timing here! woow!
i like a lot the moment captured
bravo
ciao
Valeria

07/19/2008
Hehe love it, a slight shame we can't see the monkeys face...but everything else is just so perfect in the image that I think I can let that minor detail slip.

07/05/2008
Hi Simon, What a speed little guy. But you were here with the ideal DOF and the picture is great. It looks like Timon in the King Lion (sorry about that, kid stuff....). I will try to fly like that next time I want to catch a bus...Limule
07/01/2008
Salut l'artiste.
Tu vas bien ?
Ca y est, je crois que je suis de retour pour de bon ;)

Terrible ce moment que t'as capturé. Ca c'est du moment figé...c'est fou.
Va falloir que tu m'expliques..... y a un gars à droite qui vient de lacher le singe et un autre qui vient de tirer le cone ? :)
Le genre de photo que personne d'autre pourra faire, le moment magique d'un instant....magnifiqiue

Fred

06/30/2008
Hello Simon,
impressionnant instantané qui se joue de la gravité !
Excellent comme le cône équilibre l'image en penchant dans l'autre sens !
a+

06/30/2008
Salut Simon, your apes never cease to amuse me either, that orange street sign/cone is superb as it is to tumble down while Mr Monkey is caught mid-air with superb precision, hehe--a lovely little offering--next time tell the monkey to just jump an inch lower ;-)
sasa
06/30/2008
A delicious moment! You clearly anticipated the moment and caught it with perfect timing. Bravo!

This photo could be used as an elementary physics lesson in conservation of momentum :-)

06/30/2008
Now that's a moment Simon, not sure I'll every see this in America...although, maybe Winogrand thought the same thing and he took a few photos of monkeys on the street in America.
Anyhow...you nailed this shot. Great skill given the action going on here. The outstretched monkey and leaning cone are a wonderful combination.
Fantastic.

06/29/2008
Get out of here, Monkey. We've seen enough of you! Fanstastic three-element photo, suprisingly in the portrait orientation, perfect, split-second timing. The recoil of the cone from the jump is unbelievable. What a great project, Simon. I'm so glad to have discovered it right here at the final leap. Best, -Hugh

06/29/2008
Oh yeaaaah!!!! The Adrenaline moment for this monkey. Great timing and perfect composition for a picture where you didn't have many time to think.
Colours and lights, as usual, I like a lot.
Hasta la vista,
Javier
06/29/2008
hello Simon,

Awesome image. You were indeed fortunate. I like the orange cone falling ... strange effect !
greetings, inn
06/29/2008
Wow, Simon, what a shot! Timing and "pique" perfect. Splendid way to end this off-beat, sad-funny and unique project.

06/29/2008
That's just excellent Simon. You''ve captured the jump perfectly and the tilted cone lets you know that the monkey jumped from that position but also creates a bizarre even funny effect to the shot.
Really cool shot